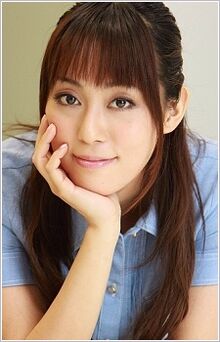 Yōko Hikasa (日笠 陽子 Hikasa Yōko?, born July 16, 1985 in Kanagawa) is a Japanese voice actress and singer affiliated with I'm Enterprise.
BiographyEdit
Hikasa aspired to become a voice actress after watching Sailor Moon,[1] and later attended Nihon Narration Engi Kenkyūjo, a voice actor training school. She is a member of the five-girl pop music group Ro-Kyu-Bu!, along with Kana Hanazawa, Yuka Iguchi, Rina Hidaka and Yui Ogura.[2] The group takes its name from the anime series Ro-Kyu-Bu!; the five members voice main characters in the series. Their first single "Shoot!" was released on August 17, 2011 and was used as the opening theme of Ro-Kyu-Bu!. Ro-Kyu-Bu! put out the album Pure Elements on October 5, 2011.
FilmographyEdit
Television animationEdit
2007
2008
Ghost Hound, Female Elementary School Student B (ep 12)
Monochrome Factor, Schoolgirl (ep 5)
2009
Asura Cryin', Ritsu Shioizumi
Asura Cryin' 2, Ritsu Shiozumi
Umineko no Naku Koro ni, Satan
K-ON!, Mio Akiyama
Birdy the Mighty Decode:02, Shrine Maiden (ep 12)
Toradora!, Schoolgirl (ep 18)
Nogizaka Haruka no Himitsu: Purezza, Iwai Hinasaki & Yayoi Kayahara
Basquash!, Child B (ep 2), Nyapico (ep 1)
Modern Magic Made Simple, Mio Kisaragi (ep 2), Official (ep 4)
2010
Demon King Daimao, Junko Hattori
Uragiri wa Boku no Namae o Shitteiru, Cartoon-character Costume (ep 11), Rina, Schoolgirl 1 (ep 8)
Kakko-Kawaii Sengen!, Kao-chan
K-ON!!, Mio Akiyama
Stitch!: Zutto Saikō no Tomodachi, Reika
Occult Academy, Maya Kumashiro
The Qwaser of Stigmata, Hana Katsuragi
Seitokai Yakuindomo, Shino Amakusa
Sekirei: Pure Engagement, Yashima
Heaven's Lost Property Forte, Hiyori Kazane
Chu-Bra!!, Kiyono Amahara
Panty & Stocking with Garterbelt, Woman (ep 8A)
MonHun Nikki Girigiri Airū-mura Airū Kiki Ippatsu, Caster
Yumeiro Pâtissière, Katie Capucine
Working!!, Izumi Takanashi
2011
Infinite Stratos, Houki Shinonono
Is This a Zombie?, Seraphim
The Qwaser of Stigmata II, Hana Katsuragi
Dog Days, Brioche d'Arquien
Nura: Rise of the Yokai Clan: Demon Capital, Kyōkotsu's Daughter
Hanasaku Iroha, Enishi Shijima (young)
Beelzebub, Azusa Fujisaki
Manyū Hiken-chō, Oume
Moshidora, Minami Kawashima
MonHun Nikki Girigiri Airū-mura G, Nyaster
Rio - Rainbow Gate!, Linda (LINDA-R-2007)
Ro-Kyu-Bu!, Saki Nagatsuka
Working'!!, Izumi Takanashi
2012
Inu × Boku SS, Nobara Yukinokōji
Campione!, Erica Blandelli
Kingdom, Kyō Kai
Koi to Senkyo to Chocolate, Kimika Haida
Code:Breaker, Sakura Sakurakōji
Gokujyo., Aya Akabane
Is This a Zombie? of the Dead, Seraphim
Say "I love you.", Female Student
Sengoku Collection, Vengeful Fang Akechi Mitsuhide
Tanken Driland, Haruka
Muv-Luv Alternative: Total Eclipse, Niram Rawamunando
Dog Days', Brioche d'Arquien
High School DxD, Rias Gremory
Aesthetica of a Rogue Hero, Myuu Ōsawa
Hayate the Combat Butler: Can't Take My Eyes Off You, Kayura Tsurugino
Hyouka, Quiz Study Group Chairman
Phi-Brain - Puzzle of God: The Orpheus Order, Mizerka
Btooom!, Hidemi Kinoshita
Medaka Box Abnormal, Saki Sukinasaki
Bodacious Space Pirates, Lynn Lambretta
2013
Flowers of Evil, Nanako Saeki
Infinite Stratos 2, Houki Shinonono
Karneval, Tsubaki
Cuticle Detective Inaba, Gabriella
Kingdom 2, Kyō Kai
Majestic Prince (manga), Kei Kugimiya
Senki Zesshō Symphogear G, Maria Cadenzavna Eve
Tamako Market, Hinako Kitashirakawa, Mari Uotani
Danganronpa: The Animation, Kyōko Kirigiri
Tanken Driland -1000-nen no Mahou-, Haruka
The Severing Crime Edge, Ruka Shihoudou
High School DxD New, Rias Gremory
The Devil Is a Part-Timer!, Emi Yusa/Heroine Emilia
Hayate the Combat Butler! Cuties, Kayura Tsurugino
Samurai Bride, Musashi Miyamoto
Free!, Rei Ryugazaki (Young)
Haganai NEXT, Hinata Hidaka
Pokémon: Black & White: Rival Destinies, Ellie
Yama no Susume, Kaede
Ro-Kyu-Bu! SS, Saki Nagatsuka
2014
M3 the dark metal, Emiru Hazaki
Gonna be the Twin-Tail!!, Isna
Girl Friend BETA, Risa Shinomiya
If Her Flag Breaks, Rin Eiyūzaki
The File of Young Kindaichi Returns, Runa Mizuki
Daimidaler the Sound Robot, Kyōko Sonan
Saki - The Nationals, Satoha Tsujigaito
Seitokai Yakuindomo*, Shino Amakusa
Bladedance of Elementalers, Restia Ashdoll
Z/X Ignition, Michael
Sword Art Online II, Endô
Terraformars, Grace
Trinity Seven, Mira Yamana
No Game, No Life, Stephanie Dora
Nobunaga The Fool, Jeanne Kaguya d'Arc
Hanamonogatari, Higasa
Phi Brain - Kami no Puzzle, Mizerka
Dai-Shogun - Great Revolution, Hyōgo Azai
Pokémon XY, Nami
Mushishi: The Next Chapter, Teru
Yama no Susume Second Season, Kaede Saitō
2015
Seraph of the End: Vampire Reign, Horn Skuld, Tomoe Saotome
Seraph of the End: Battle in Nagoya, Horn Skuld
Rin-ne, Rina Mizuki
Gate: Jieitai Kano Chi nite, Kaku Tatakaeri, Yao Haa Dusi
Maria the Virgin Witch, Artemis
Food Wars: Shokugeki no Soma, Natsume Sendawara, Orie Sendawara
Senki Zesshō Symphogear GX, Maria Cadenzavna Eve
Is It Wrong to Try to Pick Up Girls in a Dungeon?, Freya
Dog Days, Brioche d'Arquien
High School DxD BorN, Rias Gremory
Bikini Warriors, Fighter
Sound! Euphonium, Aoi Saitō, Brass Band Member
Fate/kaleid liner Prisma Illya 2wei Herz!, Hibari Kurihara
Yurikuma Arashi, Kaoru Harishima
Rampo Kitan: Game of Laplace, Kuro Tokage
Rokka: Braves of the Six Flowers, Nachetanya
Working!!!, Izumi Takanashi
Subete ga F ni Naru, Ayako Shimada
Attack on Titan: Junior High, Frieda Reiss
My Monster Secret, Tōko Shiragami
Mobile Suit Gundam: Iron-Blooded Orphans, Lafter Frankland
Chivalry of a Failed Knight, Kanata Totokubara
2016
Bakuon!!, Tazuko
Berserk, Farnese
Bubuki Buranki, Mami Horino / Zetsubi Hazama
Bubuki Buranki: The Gentle Giants of the Galaxy, Zetsubi Hazama, Double de Vaire
Cheating Craft, Li Xing / Anri
Classicaloid, Kurage
Danganronpa 3: The End of Kibōgamine Gakuen, Kyoko Kirigiri
Dimension W, Cedric Morgan
Flip Flappers, Sayuri
Gate: Jieitai Kanochi nite, Kaku Tatakaeri - Enryuu-hen, Yao Haa Dusi
Hitori no Shita the outcast, Natsuka
Keijo!!!!!!!!, Miku Kobayakawa
Macross Delta, Claire Paddle
Magi: Adventure of Sinbad, Esra
Magical Girl Raising Project, Ruler / Sanae Mokuou
New Game!, Kō Yagami
Long Riders!, Saki Takamiya
Phantasy Star Online 2 The Animation, Echo
Please Tell Me! Galko-chan, Galko's older sister, Protagonist (ep 11)
Pokémon: XY & Z, Amelia
Re:Zero -Starting Life in Another World-, Insane woman (ep 22)
Regalia: The Three Sacred Stars, Ryu
Sweetness and Lightning, Mikio's mother
Sound! Euphonium 2, Aoi Saitō
The Great Passage, Midori Kishibe
The Morose Mononokean, Kōra
Undefeated Bahamut Chronicle, Relie Aingram
WWW.Working!!, Sayuri Muranushi
2017
Fūka, Tomomi-sensei
Interviews with Monster Girls, Sakie Satō
Hand Shakers, Bind
Piace: Watashi no Italian, Ruri Fujiki
Little Witch Academia, Diana Cavendish
The Eccentric Family 2, Gyokuran
Sin: The 7 Deadly Sins, Mammon / Greed
TBA
High School DxD Season 4, Rias Gremory
Rage of Bahamut: Manaria Friends, Anne
Drama CDEdit
Watashi ni xx Shinasai!, Yukina Himuro
Taiyō no Ie, Chihiro
Original video animation (OVA)Edit
Final Fantasy VII Advent Children, Edge Citizen
Code Geass: Akito the Exiled, Kousaka Ayano
Yozakura Quartet: Tsuki ni Naku, Nadeshiko Matsudaira
Little Witch Academia, Diana Cavendish
Original net animation (ONA)Edit
Comical Psychosomatic Medicine (2015), Iyashi Kangoshi[3]
Theatrical animationEdit
Keroro Gunso the Super Movie 3: Keroro vs. Keroro Great Sky Duel (2008), Woman C
Heaven's Lost Property the Movie: The Angeloid of Clockwork (2011), Hiyori Kazane
K-On! the Movie (2011), Mio Akiyama
Hayate the Combat Butler! Heaven Is a Place on Earth (2011), Kayura Tsurugino
Inazuma Eleven GO vs. Danbōru Senki W (2012), Fran
Hal (2013), Kurumi
Toaru Majutsu no Index: Endymion no Kiseki (2013), Shutaura Sequenzia
Video gamesEdit
Ken to Mahou to Gakuen Mono (????), Female Gnome
Megazone 23: Aoi Garland (2007), Mami Nakagawa
Granado Espada (2006), Berroniff
K-On! Hōkago Live!! (2010), Mio Akiyama
Danganronpa: Trigger Happy Havoc (2010), Kirigiri Kyouko
Umineko no Naku koro ni: Majo to Suiri no Rondo (2010), Satan
L@ve once (2010), Meru Toritome
Black Rock Shooter: The Game (2011), Shizu
Umineko no Naku koro ni Chiru: Shinjitsu to Gensō no Nocturne (2011), Satan
Lollipop Chainsaw (2012), Juliet Starling (as default setting in PS3 Japanese version)
Phantasy Star Online 2 (2012), Echo
Senran Kagura Shinovi Versus (2013), Ryōbi
Super Heroine Chronicle (2014), Houki Shinonono[4]
Makai Shin Trillion (2015), Faust
Senran Kagura Estival Versus (2015), Ryōbi
Street Fighter V (2016), Laura Matsuda
Lord of Vermilion Arena (2015), Yaiba
7th Dragon 2020 (2011)

7th Dragon 2020-II (2013)
7th Dragon III code:VFD (2016)

Dragon Quest Heroes II (2016), Minea
Dubbing rolesEdit
American Graffiti (2011 Blu-ray edition), Carol (Mackenzie Phillips)
Cleveland Abduction, Gina DeJesus (Katie Sarife)
Scream 4, Jill Roberts (Emma Roberts)
The Sound of Music (50th Anniversary edition), Liesl (Charmian Carr)
Without a Trace, Becky (Andrea Bowen)
RWBY, Weiss Schnee (Kara Eberle)
Community content is available under
CC-BY-SA
unless otherwise noted.