Navigation
Overview • Categories • Articles • Discussion • FAQ • Help • Things To Do • Projects • Copyrights •
• Series • Timelines • Factions • Characters • Mobile Weapons • Technology • Locations
This is not a role playing site, it is a
resource center
. We are interested in the contribution of official information, not player profiles which are
completely fictional
.
Please head over to Gundam Fanon Wiki if you are interested in fanmade Gundams.
If you are a first time user and need assistance, contact one or more of the following administrators for assistance:
Kuruni, Gaeaman788, FortressMaximus, EfreetSchneid, FigureGunplaFan.
Featured Article
This month's Feature Article is on MSM-04G Juaggu.
The MSM-04G Juaggu (ジュアッグ, Juaagu?), also translated as Juagg, is a prototype amphibious mobile suit first featured in the original design series MSV and made its animated debut in the Mobile Suit Gundam Unicorn OVA series... Read more.
Latest News
Mobile Suit Gundam Hathaway Film Announces New Release Date of May 7, 2021
March 01, 2021 - Along with a new teaser PV and a teaser visual, the official website for the trilogy anime film project Mobile Suit Gundam Hathaway announced today that its first part is newly set to be released in Japan on May 7, 2021. It was originally slated for July 23, 2020, but has been postponed due to the impact caused by the COVID-19 pandemic.
Kensho Ono, the voice of the protagonist Noa Hathaway, says, "Due to the effects of the new coronavirus, we've had to wait a while, but a new release date is finally decided! I can't wait for you all to finally see it. I hope you're looking forward to it!"
Source: Crunchyroll
Mobile Suit Gundam Anime That Started It All Launches on Crunchyroll
January 25, 2021 - If you want a combination dose of pure anime history, mecha action, and political intrigue, you'll get all that and more with the original Mobile Suit Gundam anime on Crunchyroll. Creator Yoshiyuki Tomino's 1979 series that started it all goes live today, with episodes to be available soon for members to enjoy.
Watch the series now available in both Sub and Dub right HERE!
Mobile Suit Gundam
Launch Time: January 25, 3:00pm PST
Territories: North America, Central America, South America, Europe, Africa, Oceania, the Middle East, and CIS
Synopsis:
Universal Century 0079. The rebel space colonies of the Principality of Zeon launch a war of independence against the Earth Federation, using humanoid fighting vehicles called mobile suits to overwhelm the Federation Forces and conquer half of Earth's surface. Months later, the Federation has finally developed its own prototype mobile suits at a remote space colony. But when the colony suffers a Zeon surprise attack, these new weapons fall into the hands of a motley crew of civilians and cadets. Fate places a youth named Amuro Ray at the controls of the white mobile suit Gundam...
Source: Crunchyroll
More Gundam Titles Fly Onto Funimation With New Catalog Partnership
November 24, 2020 – Starting November 25, you'll be able to stream Mobile Suit Gundam, Mobile Suit Gundam SEED HD Remaster and more, right here on Funimation. Talk about the perfect anime feast for your holiday break!
And don't worry if you don't see your favorite Gundam series on the list. Even more series from the legendary franchise will be headed to the Funimation streaming catalog soon!
Check out the full list of Gundam titles headed to Funimation this week, and let us know what you're excited to jump into first.
Available subbed and dubbed in the United States, Canada, the United Kingdom and Ireland:
Available subbed in the United States, Canada, the United Kingdom and Ireland:
Source: Funimation
Did You Know...?
... that Mobile Suit Gundam was far less popular and critically acclaimed during its original release than it is today?
... that Mobile Suit Zeta Gundam established the eventual trend of the lead pilot(s) getting a generally-improved Gundam as main mobile suit at some point during the series?
... that After War Gundam X is the shortest non-OVA installment in the franchise, with a total of 39 episodes, whereas most Gundam series run an average of ~50 episodes.
... that Mobile Suit Gundam 00 was the first non-OVA Gundam series to be split into two seasons, rather than being aired in a continuous airing?
If you see this, your JavaScript might be disabled or DiscordIntegrator plugin isn't working. If the latter, please contact a wiki administrator.
Featured Quote
Featured Image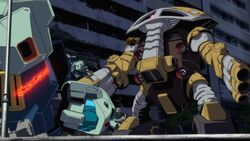 Close-up of Zeon Remnant's Juaggu standing beside a fallen Nemo in Mobile Suit Gundam Unicorn episode 4, At the Bottom of the Gravity Well.
Improvement Drive
Here are some active projects you can help on as part of our Improvement drive:

Each project has specific guidelines that you must read before assisting. General aims:
Classify/Identify images
Standard article organization
Standard article layout
Standard information boxes
Proper citation
Blogs
Actual characters that have yet to get their own page, as well as certain outfits not shown, certain images not show and some of the custom characters.
Actual characters that have yet to get their own page, and some of the custom characters.
See more >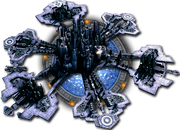 Community content is available under
CC-BY-SA
unless otherwise noted.