Navigation
Overview • Categories • Articles • Discussion • FAQ • Help • Things To Do • Projects • Copyrights •
• Series • Timelines • Factions • Characters • Mobile Weapons • Technology • Locations
This is not a role playing site, it is a
resource center
. We are interested in the contribution of official information, not player profiles which are
completely fictional
.
Please head over to Gundam Fanon Wiki if you are interested in fanmade Gundams.
If you are a first time user and need assistance, contact one or more of the following administrators for assistance:
Kuruni, Gaeaman788, FortressMaximus, EfreetSchneid, FigureGunplaFan.
Featured Article
Latest News
Mobile Suit Gundam Hathaway Will Be Streamed Outside Japan on Netflix Starting July 1st! It Will Be Viewable in More Than 190 Countries and Territories Worldwide!
June 15, 2021
Mobile Suit Gundam Hathaway, currently a box office hit in Japan, will start streaming in the countries outside Japan where Netflix has a presence, starting from Thursday, July 1st.
It will be viewable in more than 190 countries and territories worldwide, dubbed in eight languages and subbed in thirty. If you live outside of Japan, look forward to watching the movie on Netflix!
Source: GUNDAM.INFO
Mobile Suit Gundam Hathaway Releases on June 11th!
June 01, 2021 Despite the delays due to the COVID-19 pandemic, the theatrical release of Mobile Suit Gundam Hathaway will take place on Friday, June 11th.
The HG 1/144 Penelope [Clear Color] Limited Package GUNPLA will also be released on the same date.
Enjoy a new installment in the Universal Century full of astounding visuals.
Source: GUNDAM.INFO
Mobile Suit Gundam SEED PROJECT ignited Announced
June 01, 2021
5 projects were announced today at the life-size Freedom Gundam Opening Ceremony.
GUNDAM SEED PROJECT ignited PROJECT 1
A brand-new movie is now being produced!
It will be a sequel of the tv series, directed by Mitsuo Fukuda, director of the MOBILE SUIT GUNDAM SEED series! Stay tuned for further details.
GUNDAM SEED PROJECT ignited PROJECT 2
The life-size Freedom Gundam has opened! This statue in China's Mitsui Shopping Park LaLaport Jinqiao Shanghai is the first life-size Gundam statue outside of Japan!
GUNDAM SEED PROJECT ignited PROJECT 3
The first big Gundam event "GUNDAM docks at Shanghai" to be held in Mainland China from 5/28 to 7/11 at Mitsui Shopping Park LaLaport Jinqiao Shanghai!
Gundam History exhibition, free Gunpla trial & limited items!
GUNDAM SEED PROJECT ignited PROJECT 4
Development of a new MOBILE SUIT GUNDAM SEED game has been announced!
More information on the game will be revealed later. Stay tuned.
GUNDAM SEED PROJECT ignited PROJECT 5
A new Mobile Suit Gundam SEED MSV project begins!
"Mobile Suit Gundam SEED ECLIPSE" will be released on http://GUNDAM.INFO starting this July.
Source: SUNRISE INC.
Did You Know...?
... that Mobile Suit Gundam was far less popular and critically acclaimed during its original release than it is today?
... that Mobile Suit Zeta Gundam established the eventual trend of the lead pilot(s) getting a generally-improved Gundam as main mobile suit at some point during the series?
... that After War Gundam X is the shortest non-OVA installment in the franchise, with a total of 39 episodes, whereas most Gundam series run an average of ~50 episodes.
... that Mobile Suit Gundam 00 was the first non-OVA Gundam series to be split into two seasons, rather than being aired in a continuous airing?
If you see this, your JavaScript might be disabled or DiscordIntegrator plugin isn't working. If the latter, please contact a wiki administrator.
Featured Quote
"
Our beloved Earth is in constant danger from threats of all stripes! Earth! To ensure that this symbol of space itself is never left vulnerable, we Titans now rise up!
"
Featured Image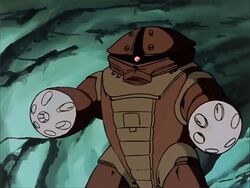 An MSM-04 Acguy at Jaburo in Mobile Suit Gundam episode 30, A Wish of War Orphans.
Improvement Drive
Doubt a statement and unsure where to find a source? Head over to our fact checking channel for assistance!

Here are some active projects you can help on as part of our Improvement drive:

Each project has specific guidelines that you must read before assisting. General aims:
Classify/Identify images
Standard article organization
Standard article layout
Standard information boxes
Proper citation
Affiliates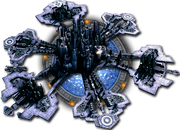 Community content is available under
CC-BY-SA
unless otherwise noted.