Navigation
Overview • Categories • Articles • Discussion • FAQ • Help • Things To Do • Projects • Copyrights •
• Series • Timelines • Factions • Characters • Mobile Weapons • Technology • Locations
This is not a role playing site, it is a
resource center
. We are interested in the contribution of official information, not player profiles which are
completely fictional
.
Please head over to Gundam Fanon Wiki if you are interested in fanmade Gundams.
If you are a first time user and need assistance, contact one or more of the following administrators for assistance:
FortressMaximus, Balofo, FigureGunplaFan, Simant, Gaeaman788, SonicSP
Featured Article
Latest News
Mobile Suit Gundam - the Witch from Mercury second PV, voice cast and prologue released!


2022-07-14

The prologue for the upcoming Mobile Suit Gundam - the Witch from Mercury anime was screened at the four life-sized Gundam statues as part of the Gundam Next Future: Link the Universe event. The official website was updated with its story, characters and mobile suits, accordingly. According to Gundam.Info, it will receive further screenings, with the next one at San Diego Comic-Con held on July 21st in San Diego, California (Pacific Stand Time). (Times and further details will be announced separately.) Online distribution will be on Gundam.Info with details announced at a later date.

Appearing at the RX-78F00 Gundam statue for the event were two newly announced cast members for the series:
Kana Ichinose as Suletta Mercury
Lynn as Miorine Rembran
Lynn previously voiced a younger Masahiro Altland in IRON-BLOODED ORPHANS.
Source: Official English Subsite, Twitter
Mobile Suit Gundam - the Witch from Mercury Synopsis/Staff/Characters/Mobile Suits Announced!
2022-06-17
The official Twitter account for the upcoming Mobile Suit Gundam - the Witch from Mercury anime released the second key visual for the series on Friday June 17th.
The official website was updated with the series' synopsis, introducing a new era―Ad Stella, and the protagonist's name―Suletta Mercury:
A.S (Ad Stella) 122~
An era when a multitude of corporations have entered space and built a huge economic system. A lone girl from the remote planet of Mercury transfers to the Asticassia School of Technology, run by the Beneritt Group which dominates the mobile suit industry.
Her name is Suletta Mercury.
With a scarlet light burning in her pure heart, this girl walks step by step through a new world.
Among the staff revealed included Hiroshi Kobayashi (Kiznaiver) as director and Ichiro Okouchi (Code Geass: Lelouch of the Rebellion) for series composition & script.
Characters
Mobile Suits
Source: Crunchyroll, Anime News Network
Did You Know...?
If you see this, your JavaScript might be disabled or DiscordIntegrator plugin isn't working. If the latter, please contact a wiki administrator.
Featured Quote
Featured Image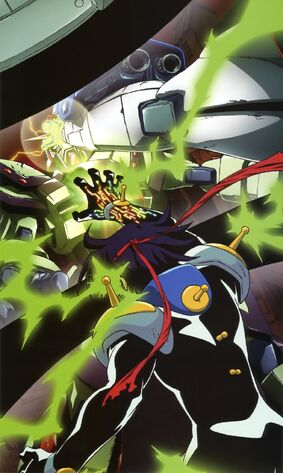 Domon Kasshu from The Official Gundam Perfect File.
Improvement Drive
Doubt a statement and unsure where to find a source? Head over to our fact checking channel for assistance!

Here are some active projects in our Improvement drive:

Each project has specific guidelines that you must read before assisting. General aims:
Classify/Identify images
Standard article organization
Standard article layout
Standard information boxes
Proper citation
Affiliates