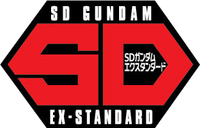 SD Gundam EX-Standard (SDEX) (SDガンダム エクスタンダード, SD Gandamu Ekusu Sutandādo?) is a line of Super Deformed Gunpla kits of the Mobile Suits from the Gundam metaseries. Initially released exclusively for sale outside of Japan in late 2015, the line was introduced in Japan in the Summer of 2016. Each kit has a gimmick wherein their weapons and accessories can be used with High Grade 1/144 Gunpla kits.
The SD Gundam EX-Standard line was discontinued in 2017 and replaced by the SD Gundam Cross Silhouette line. The SDEX RX-78-2 Gundam was relaunched with Hello Kitty in February 2020 to commemorate the 40th anniversary of Gundam and the 45th anniversary of Hello Kitty. The line was continued in late 2020 with the releases of RX-93 ν Gundam and MSN-04 Sazabi.
Reissues of the older kits from 2020 onwards will feature the blue Bandai Spirits logo.
Notes and Trivia
The kits starting from SDEX-16 are made in China rather than in Japan.
See also
References
External links