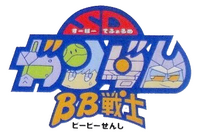 SD Gundam BB Senshi (SDガンダム BB戦士, SD Gundam BB Senshi?) is a line of super-deformed Gunpla kits of the Mobile Suits from the Gundam metaseries. Originally introduced in 1987, it is the longest-running line in the history of Gunpla.[1]
Some kits from this line were also released under the North American Superior Defender Gundam line in the early 2000s.
Although regular releases have stopped after 2018, the BB Senshi line continues through P-Bandai, The Gundam Base Tokyo, and other special edition releases, while reissues of most of the regular kits from 2018 onwards will bear the blue Bandai Spirits logo.
Lineup
Notes & Trivia
The line originally got its name from the first six kits which came with spring-loaded bazookas that fired plastic BB pellets.
See also
References
External links