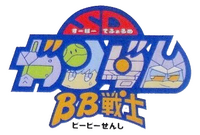 SD Gundam BB Senshi (SDガンダム BB戦士, SD Gundam BB Senshi?) is a line of super-deformed Gunpla kits of the Mobile Suits from the Gundam metaseries. Originally introduced in 1987, it is the longest-running line in the history of Gunpla.[1]
Lineup
Trivia
The line originally got its name when the first six kits came with spring-loaded bazookas that fired plastic BB pellets.
Most of the SD Gundam G-Generation boxes parody the Master Grade box art layout.
See also
References
External links