The Principality of Zeon (ジオン公国, Jion Kōkoku?) is one of the main factions of the Mobile Suit Gundam: The Origin manga and its OVA adaptation.
Organization
Military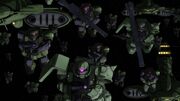 Commanded by Vice Admiral Dozle Zabi, it was the space-borne branch of Zeon's military.
Earth Expeditionary Force
Responsible for the invasion of Earth. Commanded by Lieutenant General M'Quve, it was ground branch of Zeon military.
The North American Force, Western Sector was commanded by Colonel Garma Zabi.
Armored Assault Force
Commanded by Major General Kycilia Zabi.
Commanded by Kycilia Zabi, responsible for assassinating the Mayor of Granada, and operation Blue Bird.
Ranks and Insignia
Line Officers
Ranks
Collar Tabs
Uniform
Japanese
Space

Forces

Ground Forces
Special Ranks
公王
(Kouou)
Sovereign Ruler
?

総師
(Soshi)
Supreme Commander
?

High Officers
大将
(Taishō)
Admiral
General

中将
(Chūjō)
Vice Admiral
Lieutenant General

少将
(Shōshō)
Rear Admiral
Major General

准将
(Junshōu)
Commodore
Brigadier General
?

Senior Officers
大佐
(Taisa)
Captain
Colonel

中佐
(Chūsa)
Commander
Lieutenant Colonel

少佐
(Shōsa)
Lieutenant Commander
Major

Junior Officers
大尉
(Tai-i)
Lieutenant
Captain

中尉
(Chūi)
Lieutenant Junior Grade
First Lieutenant

少尉
(Shōi)
Ensign
Second Lieutenant

准尉
(Jun-i)
Warrant Officer

Military Cadets
士官候補生

(shikankouhosei)

Officer Cadet

Silver Color

Non-Commissioned Officer
曹長
(Sōchō)
Master Chief Petty Officer
Sergeant Major

軍曹
(Gunsō)
Chief Petty Officer
Sergeant

伍長
(Gochō)
Petty Officer
Corporal

Spacemen and Soldiers
上等兵
(Jōtōhei)
Senior Crewman
Senior Private

一等兵
(Ittōhei)
Crewman 1st Class
Private 1st Class

二等兵
(Nitōhei)
Crewman 2nd Class
Private 2nd Class
State Security Junior Officers
Ranks
Collar Tabs
Uniform
Japanese
Space

Forces

Ground

Forces

大尉
(Tai-i)
Lieutenant
Captain

中尉
(Chūi)
Lieutenant Junior Grade
First Lieutenant

少尉
(Shōi)
Ensign
Second Lieutenant

准尉
(Jun-i)
Warrant Officer
References