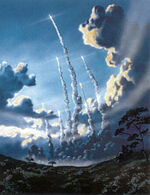 Operation Cemballo was a battle during the 
One Year War
 between the 
Earth Federation Forces
and the 
Principality of Zeon
.
History
On December 14, Operation Cemballo began with the launch of a new Earth Federation fleet from their fortress Jaburo. Sending their new fleets into space, the EFSF moved towards the Zeon homeland at L2. Standing in their way was the Zeon defensive line, consisting of the asteroid space fortresses Solomon and A Baoa Qu, as well as the lunar city Granada.
On December 24, UC 0079, the EFSF fleet launched an attack on the asteroid base Solomon, the headquarters of Zeon's Space Attack Force. Using their Solar System, the Earth Federation inflicted heavy damage on the enemy fortress and was able to take Solomon. When it was clear that the battle was lost, Dozle Zabi gave the order to evacuate the base and sortied in the Big Zam to fight a delaying action. He succeeded in allowing many Zeon forces to retreat, but was killed by Amuro Ray in the process. The capture of Solomon marked the end of Operation Cemballo.
Community content is available under
CC-BY-SA
unless otherwise noted.