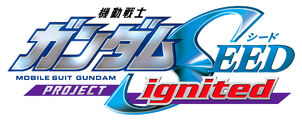 Mobile Suit Gundam SEED PROJECT ignited (GUNDAM SEED PROJECT ignited, ガンダムシード プロジェクト イグナイテッド?) is a Cosmic Era-focused multimedia project announced by Sunrise at the Life-size Freedom Gundam Opening Ceremony in Shanghai, China, on May 28, 2021.[1]
Summary
Mobile Suit Gundam SEED Movie
A sequel to Mobile Suit Gundam SEED Destiny that will be directed by Mitsuo Fukuda [2]. Release dates and details are yet to be revealed [1].
Life-Size Freedom Gundam opening ceremony
The statue in China's Mitsui Shopping Park LaLaport Jinqiao Shanghai, the first life-size Gundam statue outside of Japan. A large LED screen behind the statue plays specially made animations supervised by Mitsuo Fukuda.[1]
Gundam Docks at Shanghai
An official Gundam event taking place between May 28 and July 11, the first of its kind in mainland China. Includes Gunpla history corner, free Gunpla experience, and the sale of limited goods.[1]
Mobile Suit Gundam SEED Game
The development of a new Gundam SEED game has been confirmed. Details are yet to be revealed.[1]
A new Mobile Suit Gundam SEED MSV project, which will begin serializing on Gundam Ace in Japan and on the Gundam Info website overseas in July, 2021.[1]
References
Community content is available under
CC-BY-SA
unless otherwise noted.