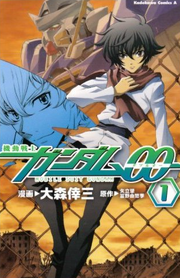 Mobile Suit Gundam 00 (機動戦士ガンダム00 Kidō Senshi Gandamu 00)is manga written by Yun Kouga illustrated by Hajime Yatate Shouten published in Kadokawa in 2008,based on the TV series about a season 1.
Story
In the year 2307 AD, fossil fuels have all but vanished and the distribution of energy is unbalanced. Humanity now relies on three large-scale solar power systems controlled by three multinational power blocks: the Union of Solar Energy and Free Nations (Union), the Human Reform League (HRL), and the Advanced European Union (AEU). With this nearly inexhaustible source of energy benefiting only these three powers and their allies, constant warfare erupted around the globe among minor countries for precious fuels and energy. Countries whose economy relied solely on the sale of fossil fuels were plunged into poverty and some even believed that the solar power system threatened the "promised land of God", resulting in the twenty year-long Solar Wars. Such a chaotic reality has lead to the creation of a paramilitary organization in possession of four highly advanced humanoid mobile suits called "Gundams" and a mysterious technology known as the "GN Drive". They call themselves Celestial Being, and their goal is nothing less than the complete eradication of war through the use of war itself.
Characters
Mechanics
Gallery
Community content is available under
CC-BY-SA
unless otherwise noted.