Mobile Suit Gundam 00P (機動戦士ガンダム00P, Kidousenshi Gandamu 00P?) (P for prequel) is a novel written by Tomohiro Chiba for Dengeki Hobby Magazine, featuring past events of Celestial Being before the timeline in the anime series, Mobile Suit Gundam 00. The story ran in serialization between the issues of December 2007 to December 2009. The publisher, ASCII Media Works, released a total of 4 volumes. On March 31, 2010, ASCII Media Works released a reformatted version of the novel; there are 2 volumes.
A sequel series, Mobile Suit Gundam 00P: Special Edition (機動戦士ガンダム00P SPECIAL EDITION, Kidousenshi Gandamu 00P SPECIAL EDITION?), was serialized in Dengeki Hobby Magazine, running between the issues June 2010 to October 2010. It covers specific events in the side stories, mostly during the Second Season of Gundam 00.
Characters
Celestial Being
Main article: Celestial Being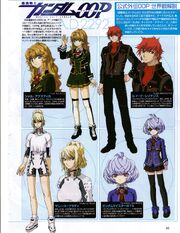 Ruido Resonance - One of the four Gundam Meisters employed by Celestial Being in the period in which 00P is set. He is the designated pilot of the GNY-001 Gundam Astraea and also a skilled mechanic. He later married Marlene Vlady and is the father of Feldt Grace.
Marlene Vlady - A criminal enlisted to serve Celestial Being, Marlene is the designated Meister of the GNY-003 Gundam Abulhool. As there are doubts regarding her support of the organization's ideology, a remotely-detonable explosive is strapped around her neck to keep her under control. She later falls in love with, and marries fellow Meister Ruido Resonance. She is the mother of Feldt Grace.
Chall Acustica - A new Gundam Meister joining Celestial Being, Chall is the pilot of the GNY-004 Gundam Plutone. While in school, she achieved stellar results in work loader competitions. Ruido guessed this may have been one of the many reasons why Veda recruited her.
Gundam Meister 874 - Designated pilot of the GNY-002 Gundam Sadalsuud. Though Meisters are typically referred to by codename, 874 is designated only by number. For unspecified reasons, she does not appear directly before the other members of the organisation but through a display screen. Physically, she looks younger than 10, but her real age is unknown. Her voice is similar to that of a young girl, but she speaks more maturely than Ruido and in an emotionless manner.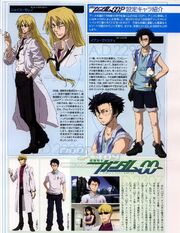 Joyce Moreno - A doctor with the NGO, Doctors Without Borders, and a longtime friend of Ian Vashti from the time before they joined Celestial Being. He was Celestial Being's medical doctor.
Ian Vashti - A former Advanced European Union military lead mechanic, Ian joined Celestial Being together with Joyce Moreno. Ian helped with maintenace/repair and assist in testing of equipments for the second generation Gundams and played a more prominent role in the development of the third generation Gundams.
Grave Violento - A new protagonist introduced in the second season of 00P, Grave is the Gundam Meister of the 3rd Generation Gundam, the GN-XXX Gundam Rasiel. Grave also acts as a Celestial Being field agent, acquiring and manipulating information to ensure Celestial Being remains a secret before it begins its armed interventions. He is also responsible for recruiting and investigating potential Gundam Meisters.
Hixar Fermi - A new protagonist introduced in the second season of 00P. Pilot of GNR-000 GN Sefer. His jovial personality allows him to talk freely with almost anyone, even when meeting them for the first time. Hixar enjoys making others laugh, though has considerable trouble doing so with the serious Grave and the gloomy Chall.
Human Reform League
Main article: Human Reform League Delphine Bedelia - Highly skilled and proud, Delphine is a test pilot from the HRL's Next Generation Technology Development Laboratory, and serves as the Tieren Kyitwo mobile suit's rear seat pilot. She initially dislikes being partnered with super-soldier Leonard Fiennes and treats him rudely.
Leonard Fiennes - Leonard is the front seat pilot of the Tieren Kyitwo. He is from the Super Human Research Institute. Despite being 7 years old, he tries very had to fulfil his role. His ability as a Super Soldier is not very high.
Advanced European Union
Main article: Advanced European Union Fon Spaak - A mercenary working with AEU. He pilots the mobile armor "AEU-MA0707 Agrissa Type 7″ and lays a trap for Grave. Very smart and analytical.
Innovade
Main article: Innovades Beside Pain - Beside shares the same DNA template as Ribbons Almark, and is an Innovade with special abilities. He disagrees with having humans as Gundam Meisters. Pilot of the "CB-001 1 Gundam".
Story
The story of Gundam 00P is divided into 3 settings. The First Season focused on the story of the Second Generation Gundam Meisters, Chall Acustica, Ruido Resonance and Marlene Vlady, fifteen years before the story of Gundam 00. It was the time during Celestial Being's development of the Second Generation Gundams. Ten years after the first one, the Second Season takes place. The story follows the missions of Gundam Meister Grave Violento, as he recruits future members of Celestial Being, including the Third Generation Gundam Meisters. In addition, there is the Special Edition, which is a compilation of stories that focused on the events that happened in side-stories of Gundam 00.
Mobile Suit Gundam 00P Season 1
File No.01: Gundam Astraea
The story is set in A.D. 2292, fifteen years before the future Celestial Being began its first public armed intervention. It started with Ruido Resonance meeting with a young girl named Chall Acustica. Veda chose Chall to be a Gundam Meister just like Ruido. Ruido was shocked at first that the young girl was chosen by Veda, but later came to a conclusion that Chall was chosen not only because of her technical abilities, but also due to her other abilities as well.
The setting was a space colony in Lagrange 3, the Krung Thep - this place is specifically created for the development of the Gundams. Despite its small size, it could be said that it was the bridge to space when the space development had not fully begun. Krung Thep was also the lone space colony in the area, and hence ideal for the base of a secret organization. It should be noted though, that once the orbital elevators were completed, the space exploration would be underway, and the situation would change. The orbital elevators also made humanity's dream of unlimited power supply system, the solar energy, a reality. Ironically, the building of such a system has become the source of conflict between those who support it and those that were against it. Humans have been fighting each other non stop since their distant past; it was because of this that Celestial Being and the Gundams had been visualized by Aeolia Schenberg. Ruido sympathized with the Aeolia's ideals and was one of those who answered the call to become a Gundam Meister.
Ruido first introduced Chall to the GNY-001 Gundam Astraea, the first of the second generation Gundams. He wanted to show her the Gundam before anything else, as she deserved to feel the courage and vigor that he had felt when he first saw it. Ruido commented that its name was derived from the Goddess of Justice, who is also featured on the tarot card representing "Justice". He adds that other second generation Gundams will also have names related to tarot cards, and Chall wonders in shock at the implications that there will be 22 Gundams since there are that many tarot card in a set. Ruido immediately laughs, and noted that less than 10 Second Generation Gundams had been planned because there were only 5 GN Drives. He knew that it is a contradiction to eradicate war with force, but at least the Gundam's name would be associated with Justice. Upon seeing Chall's depressed expression, Ruido then decided to introduce her to another Gundam Meister to cheer her up.
The next Meister is a woman named Marlene Vlady. She is a beautiful woman of strong will and intellect, yet the conditions around her changed the whole atmosphere. She was behind iron bars, handcuffed, and had an explosive collar around her neck. Ruido introduced the Marlene and Chall to each other. Marlene did not respond, she did not even look in their direction. Chall asks Ruido why Marlene was bound, which Marlene heard and replied that she was a felon. She added that unlike the other Meisters, she was just a part that makes a Gundam move. Ruido tried to ease the atmosphere, but he couldn't find any words to say as Marlene's words are true.
The meeting of the three Gundam Meisters seems to have foretold their destiny, one that is cold and heavy.
File No.02: Gundam Meister 874
The chapter starts with the introduction of GNY-002 Gundam Sadalsuud and its pilot, Gundam Meister 874. Not far from the Krung Thep, 874 has been testing the Sadalsuud for 121 hours. That is more than 5 days, but the test is not over yet and 874 carries on her work tirelessly.
Back in the hangar, Ruido and Chall were working on the Astraea. Ruido was originally a technical engineer. In order to know the degree of completeness of the machine being work on, Ruido picks up the necessary piloting skills. He was recruited by Veda when his piloting skills reach an outstanding level. Personally, Ruido joined the organization as he was attracted by the development of the Gundams, he did not intended to be one of its pilot. Ruido noted that even with his piloting skills, he could not bring himself to fight and interfere with the conflict. Chall also thought the same. She sympathized with Aeolia's ideals, but could not see herself piloting a mobile suit and fighting for them. She joined the organization because it allows her to develop a MS that can fulfil her ideal of eradicating wars, she did not join because of the combat missions. It might be a bit irresponsible, but for those who would be willing to fight in the Gundams in the future, better units must be developed. Chall feels that this is for her the most effective way of working towards realizing Aeolia's philosophy. She knows that this may be a bit selfish, but for her now, this is the only way.
Chall then asked Ruido why Marlene was chosen as a Meister. Ruido told her that aside from Marlene's piloting skills, she was also very decisive and clear. She does not care about the damages suffered by the machine, and this allows her to overcome the limits. In Ruido's opinion, Marlene might be the most suitable pilot among them when they take into consideration the Gundams' intended purpose. Chall then wondered if Marlene believed in the organization's ideals, but Ruido couldn't provide an answer as she hadn't talk to him that much. He then expressed relief as he thinks that Marlene would be more willing to talk with Chall as they are both females. In reality, Marlene hated Ruido's cheerful and optimistic personality, but he didn't seem to notice. Chall couldn't help but worry about Ruido's simple-mindedness. Unlike Ruido and Chall, Marlene is excused from maintenance duty as she is considered too dangerous to be moving around freely, even with her hands are cuffed and the explosive neck collar. Furthermore, her belief about Celestial Being's ideals were not clear.
Moving to another topic, Chall asked Ruido about the fourth Gundam Meister. She had been in the organization for a week, but had not met the last Meister. Chall heard that she was a female and was referred to by a code number. After confirming that Chall was talking about Gundam Meister 874, Ruido replied that everybody had seen her but have not met her, and this left Chall confused. He told Chall that 874 had been out for a week long mission, testing the use of the Sadalsuud for long period surveillance. Unlike other MS, the Gundams could function for long periods because of almost unlimited power supply from the GN Drives. But even then, the strain on the pilot cannot be ignored. As he finishes his explanation, Ruido noted that Sadalsuud should be returning soon. No sooner had those words left his mouth, the hangar's alarm sounded, indicating Sadalsuud's return. Ruido then quickly directed Chall out of the hangar. Chall was puzzled by this as there is an air-tight block between the outer door and where they are now, so they do not have to worry about any air leak when Sadalsuud comes in. Ruido explains that 874 does not like people seeing her come down from the Gundam. Chall was unsatisfied and continues to question him, but Ruido just urges her to go out.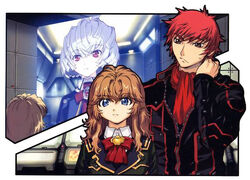 After an hour, Chall and Ruido meet with 874. Chall wore her usual school uniform. Ruido, in contrast to his dirty working clothes earlier, was wearing a black jacket with red linings coupled with red scarf. Chall asked about Marlene, but Ruido assured that she had already met 874. In the conference room, the monitor switches on and the image of a young girl wearing a slightly different school uniform from that of Chall's appeared. Ruido introduced Chall to 874, who was in the monitor. After giving a brief introduction, 874 excused herself and disappears from the monitor. Chall was surprised by this and calls out to 874 several times but to no avail. Ruido explained that 874 only meets people via the monitor, which didn't lessen Chall's shock. Ruido then tried to find an excuse but it only infuriated Chall. In her mind, Chall complains that no one here is normal and her perception of being in a terrible place strengthens.
File No.03: Astraea Weapons
The GNY-001 Gundam Astraea was used to test two new weaponry, the GN Launcher and the Proto GN Sword. Both weapons are larger than conventional weaponry, and the test data gathered will be used to develop new weapons for future Gundams. Ruido, the designated pilot of the Astraea, performs the tests not only in the Krung Thep space colony, but also outside of the colony as well. These tests not only test out the weaponry, but also the ability of the Gundam to perform in different environments. Currently, the testing of the Gundams in space is the top priority of the Gundam development plan. This was because Celestial Being's existence had to be kept secret, and this makes testing the Gundam on Earth difficult. This was why the Krunp Thep facility contains replica of various environmental area on earth for testing purposes. The testing of the Proto GN Sword within the facility's environment had been completed sometime ago, and several issues were identified. Ruido's impression of the weapon is that it is too heavy, and a skilled pilot is needed to use it effectively. As a mechanic, he also noted that the weapon suited a close combat mobile suit well. For such a mobile suit, the weight of the Proto GN Sword can be used as an advantage in combat. Ruido was aware that these issues should not be much of a problem as they would be taken into considerations when designing future mobile suits. For Proto GN Sword, there was a plan to install a gun function in it so as to decrease the number of equipment the mobile suit has to carry. When this is achieved, the 'Proto' part of the weapon's name will be removed.
In the hangar, Ruido is preparing to test the GN Launcher in space. As he changed into the pilot suit, he noticed Chall standing next to him. He is aware that she wanted to discuss something with him, but had no idea what the matter is. Somehow, he managed to put himself in her shoes and wonders if she wanted to pilot the Gundam. He puts forth the question to Chall and this startled her. Ruido empathizes with her eagerness to pilot a Gundam as her Plutone Gundam is not ready yet. Chall then explains that although he is right in that she is eager to pilot a Gundam, the real reason she approached him is because she felt that she had done nothing since her arrival. Hearing this, Ruido silently laughs at himself for thinking a moment ago that he knows a girl's thoughts. He feels that one should not use their own standard to gauge others; especially if there is an age gap and the other party is a girl as they are hard to read, just like aliens. Ruido then made up his mind to let Chall pilot the Astraea and carry out the GN Launcher test. Despite her confusion, Chall delightfully accepted. Ruido noted that they still need to report this change to Veda but he did not expect any problem. He carries on that Astraea's weaponry have to be tested on both sides of the suit, and remarks that since he is left-handed while Chall is right-handed, they can make use of this opportunity to do the test and see how the suit perform with the equipment placement swapped.
Astraea now floats in the space next to Krung Thep; the Proto GN Sword was placed on its left arm while the GN Launcher was mounted on its right shoulder. This is the more common 'right-handed configuration' for ranged battle. The GN Launcher had been tested inside the space colony, but there were many restrictions and the weapon's output was also lowered. The space test will be the first time the weapon is fired at full output. The Proto GN Sword was equipped merely to observe the suit's balance during the firing. Chall was nervous and Ruido, who was observing the test, reminded her that the suit was adjusted for her. This encouraged Chall a lot. Ruido's words also made her more determined to finish the test and return the Gundam to him without any scratches. Chall then asked Astraea for its full cooperation, and realized that she is behaving like Ruido. 'Machines are friends, if you believe wholeheartedly in them, they will respond to you', this was Ruido's mantra. Chall laughed at Ruido's childish way of thinking and this had a relaxing effect on her. One of the toughest asteroid next to the space colony was selected as the target, the asteroids were place there to serve as a resource. Chall charged the GN Launcher. The weapon was designed to source its GN particles from the suit's GN Drive and in return for its high destructive power, had to be charged before firing. Although this weakness is likely to be address in the future, the charging time will only be shorten but not eliminated. As the charging completes, Chall pulled the trigger and was surrounded by a bright light from the weapon. Ruido wondered if an explosion had occurred. The weapon had suffered an overload due to excessive GN particles, as a result, the particles leaked out causing the bright light. Thankfully, the weapon did not suffer any damage or explode, and the Gundam was fine.
Chall was then heard screaming, and several debris from the destroyed asteroid hit the Astraea, but the Gundam's E-Carbon Armor was strong enough to withstand the impact. Ruido tried to calm her down but failed. 874 suddenly appeared on screen and noted that the danger is low as there is no abnormality with the GN Drive. Marlene also appeared on screen and wondered what happened to Chall. Chall had accidentally pressed the emergency button, alerting all the Meisters. During an emergency, the operating procedures had dictated that ensuring the safety of the GN Drive is the top priority, followed by the pilot's. Marlene scolded Ruido for this mess and for lying about being left-handed. Before tuning off, she told Chall to have him rescue her. Knowing it was his responsibility, Ruido asked 874 to let him pilot the Sadalsuud to rescue Chall and told Chall to stay put.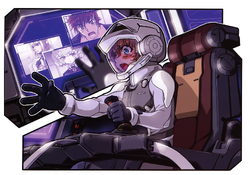 Chall, finally calmed down, asked if the Astraea was okay as she could not see anything on her monitor. The suit's sensors were affected by the leaked GN particles and had malfunctioned. Ruido proposed to pick her up with Sadalsuud, but she insisted on going back by herself as some sensors are still functional. After Chall had cut off communications, Ruido wondered if she wanted to take responsibility for what had happened.
Inside Astraea, Chall was dejected with her earlier panicking and for not completing the mission. Most importantly, she cannot forgive herself for crying. She had promised not to cry when she first arrived, but after hearing Ruido's heartfelt concern, she couldn't hold back her tears from falling.
File No.04: Gundam Plutone
In space, the Second Generation Gundam Unit 1, Astraea, was facing the Second Generation Gundam Unit 4, the GNY-004 Gundam Plutone. Gundam Plutone's name originated from the tarot card, "Judgement", that is associated with the planet, "Pluto". The tarot card also represents "Resurrection" and "Change", and many members of Celestial Being thought this was why Gundam Plutone received its name as it was built with a cockpit and solar furnace escape system. In truth, Gundam Plutone was named due to a hidden feature, and only Veda knew this as it was the one that had named the Gundam. Although it had no connection with the suit's name, Plutone was also equipped with another important system; the GN Particle defense system - "GN Field". This system is the subject of a test that is being prepared.
Plutone's designated Gundam Meister was supposed to be Chall Acustica, but for this test, it was piloted by Marlene. In Astraea, Ruido was very nervous as he is going to open fire on a friendly unit. Marlene tried to calm him down, she noted that Ruido's piloting skill is excellent and that there isn't any human inside Gundam Plutone. She had always viewed herself as a part of the Gundam, and hence not a human. Although her words are not really comforting, Ruido decided to put aside his hesitations to avoid affecting Marlene and to avoid any accidents during the test. He then seeks Astraea for its cooperation, and pulled the trigger. In Krung Thep, Chall was watching the test via the monitor. It was Veda's decision to let Marlene pilot the Plutone, but Chall couldn't help but be disappointed; her Gundam was completed, but she still couldn't contribute to the organization. She was then shocked to realized that the disappointment also came from not being able to launch into space with Ruido. She brushed this off as just wanting to show off her Gundam to him, and that she's not jealous of Marlene. When Chall was in school, her classmates jokingly referred to her as the 'love spiral' due to her habit of associating things with the feeling of love. Regardless of the reason, Chall is still disappointed at not being inside Plutone.
Using the test data gathered by Chall previously, improvements were made to the GN Launcher. As a result, the weapon's GN particle leakage had been suppressed to a minimal level that will not harm the Gundam. To completely eliminate the leakage, the whole weapon had to be redesigned. It is likely that the redesign will caused the weapon to become larger and also received a new name. For the test on Plutone's GN Field, Astraea will be shooting at Plutone using the GN Launcher at 50% output. As for Plutone, a decision had been made earlier to temporarily suspend the development work on its external GN Field deployment system. This was because the GN Field was not stable enough. The backup plan, the "GN Composite Armor" was activated; here, the GN Field is created within the interior space of the suit's armor. This allows the production of a stable GN Field for maintaing a high level of defense. A drawback though, is that the GN Composite Armor could not be implemented all over the body, especially on the sensors and other exposed parts.
The beam from Astraea's GN Launcher accurately hit Plutone on the chest. The Gundam's cockpit seat does not have any seat belt. Rather, the special pilot suit worn by the Meister is designed to adhere the human body to the seat; slow movements can free one from the seat, while powerful impact will adhere one more strongly to the seat. In this test, however, the impact was more than what had been expected, and Marlene almost lost consciousness when she was thrown violently out of the seat. Through her strong will and pride, she managed to remain conscious. Marlene thinks that a plug-like device might be needed to help secure the pilot suit to the seat, and noted this thought of hers down as this is an area of improvement. She then proceeded to check on the damage suffered by the Gundam. In the area hit by the beam, the outer layer of the GN Composite Armor was completely gone, but the inner layer was intact as the GN Field had totally negated the beam.
After the test, Chall greeted the two Meisters. Unexpectedly, Marlene apologized to Chall. Chall first thought Marlene was apologizing for being with Ruido in space; she quickly realized her 'love spiral' habit is at a work and brushed it off. She asked Marlene why she was apologizing, and the latter explained that she felt sorry for damaging Chall's Plutone. Chall was surprised by Marlene's concern and takes a liking to her. Ruido then interprets and promised that he would repair the Plutone until it was as good as new. Marlene noted that this test provided certain degree of verification about the safety issues, and assured Chall that she would be inside Plutone for subsequent tests. Aside from noticing that Marlene was addressing her by her name for the first test (opposed to the usual "Little girl"), Chall also realized that Marlene had just conducted a dangerous test in her stead.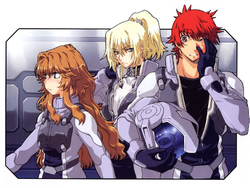 She felt bad for being depressed earlier on over minor issues, and decides to pick herself up, both for her own sake and for Marlene, who had took her place in the dangerous test. She then promised Ruido that she will do her best in the next test and will not cause any trouble. Ruido nodded his head, and proceeded to put his foot in his mouth; he confessed that since he was already hesitating with Marlene in the cockpit, he might have hold back if Chall was there and that could have make the test meaningless. Offended by Ruido's words, Chall reminded him that she was also a Gundam Meister, but Ruido explained that she was also just a little girl. Ruido tried his best to dig himself out of the mess, but it only angered Chall further and she slapped him. A sudden alarm changed the atmosphere. 874 reported that there is an emergency, a vessel is closing in on Krung Thep.
File No.05: Crisis of Krung Thep
Krung Thep is the space colony prepared by Celestial Being for the development of Gundams, and its name holds the meaning of "City of Angels". It is located in Lagrange 3, far away from the current space development stronghold, the Moon. On the surface, the colony functions as a civilian factory, funded by multiple companies, for the manufacture of products that could only be made in space, and for the research and development of new materials. But, secretly, its main purpose was to develop the mobile weapons, Gundams. Most of the investors didn't know about this, they were only concerned with making profits. The colony's management was led by a Chinese business from HRL, he had a solid financial foundation and was also a Celestial Being agent. Space development wasn't widespread at the time, thus Krung Thep was mainly visited only by trading vessels and vessels carrying raw materials. People or vessels related to the military were unlikely to visit the place. However, Celestial Being still took precautions, especially when they were doing tests outside the colony. Top-secret plan with careful attention; these had so far protected the secrets of Krung Thep. However, all this is now on the brink of collapse.
The emergency message from 874 was broadcast throughout the colony. She notified the other meisters that she is launching in Sadalsuud to collect information, and advised Ruido to prepare to intercept in the Astraea. The Sadalsuud, with its enhanced sensor systems, plays a very important role during the initial stage of such emergency. After 874 ended her communications, Ruido expressed irritations about the sudden developments. He rarely made any complains, however, consecutive launch is indeed tough for the body. Chall volunteered to pilot the Astraea, but was quickly rejected by Ruido. She thought that he was worried about her, and was unwilling to back down. Ruido stood his ground, and asked her if she understood the meaning behind the words spoken by 874 earlier. Chall then realized that 874's words meant that they may need to fight and kill people; she had not though about this earlier, she only wanted to help. Ruido expressed that although he was unsure if he can use the Gundam to kill others, he was already mentally prepared for such a day. As Ruido left, Marlene comforted Chall. She told Chall that no one here doubted her resolution, it was just that Ruido wanted to test his. Marlene revealed that she originally planned on taking the Astraea herself as she had already seen death before, but after seeing Ruido's determination, she felt that she could not snatch this opportunity away from him. These words were not only meant for Chall. They were also for Marlene herself, and Chall immediately felt that both Ruido and Marlene were good people. Despite this, it is still a fact that Meister had to face death. This contradiction is sad and terrible, but one has to be aware of it.
Not long after Astraea left the colony, it received 874's update about the incoming vessel. The Gundams communicate with each other using visual signals as GN Particles disrupt radio communications. Unlike the military's way of visual communication using lights, Gundams communicate by looking at the slight armor vibrations and this method can transmit more information. The fundamental technology for such communication method was available 100s of years ago. Ruido learned that the incoming vessel was a HRL battleship. He found himself shaking with fear, although he is determined to do what is required, the though still unnerved him. Ruido felt that it was lucky that Chall did not have to bear this mental burden, and quickly realized that this would likely earn another slap from her. He then gathered himself together. HRL has yet to develop Mobile Suits adapted to space, and with the Gundam's excellent mobility, there is no possibility of losing to the HRL's battleship. The Astraea was equipped with two GN Launchers mounted to the body; the weapon was not meant to be equipped in pair as it reduces the suit's mobility, but Ruido still decided to have it this way to ensure sufficient power to punch through the battleship's thick armor.
As Ruido prepared to fire, 874 relayed additional information sent by Veda. According to Veda, the battleship was manned by military deserters and it was high likely that they plan to occupy Krung Thep, hold it for ransom, and use the funds to go to a third country. Veda knew about the deserters when they first escaped from the military, but because the facilities to gather intelligence in space were scarce, it was unable to predict that they were heading for Krung Thep. Ruido wondered if Veda had predicted the events, but intentionally left it alone so as to let the Gundam experience real combat. However, he quickly brushed this thought aside as it was not the right moment. At the end of the communication was Veda's recommendation - destroy. The battle was short. Ruido closed in, spread GN particles, and pulled the trigger. The deserters onboard the battleship were likely busy with the sudden loss of radar and communication when the attack hit; they never had a chance to know what killed them. Destruction of the target was confirmed by 874, and emotionlessly, she conveyed that she would be analysing the wreckage and removing evidence of the battle. She advised Astraea to return first.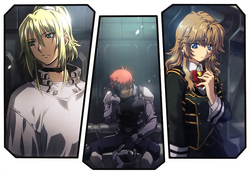 While returning to Krung Thep, whirling thoughts of guilt and self-pity occupied Ruido's head. He decided to not let Chall and Marlene see him traumatized, as it might also affect them. Just like how Chall doesn't want to be treated like a little girl, he also have a man's pride. He had never thought that faking a smile could be so difficult. After getting out of Astraea, Ruido greeted Chall like nothing had happened. Marlene had went back to her cell, so Chall was the only one there to meet him. Chall tried to talk to him more, but Ruido used the excuse that consecutive launch was too tiring and quickly left for his room. If he had stayed, he would not have been able to maintain his composure. In his room, he just sit on his chair with his head lowered and downcast. Chall was worried about Ruido but had no idea what to do, while Marlene stares into the emptiness.
Looking at the three Meisters via the colony surveillance camera relayed through Veda, 874 wondered if this is the limits of humans or if this is their advantage. Veda doesn't know about human nature. To know more about it, there must a information terminal interface that is with the humans, and transmit the data collected back to Veda. 874 decided that she needs to continue her observation of humans.
File No.06: Ground Battle
A space shuttle from Krung Thep, disguised as belonging to a R&D enterprise, descended to Earth and landed on the enterprise's private airport south of Eurasia. It carried two Gundams and the four Meisters. Development of the Gundams in space had been completed, and Veda had ordered the remaining development work to continue on Earth. Chall had complex emotions about the return to Earth; she was both hopeful and fearful. Initially, she was surprised by Veda's order as she had thought all the development work would be done in space. However, the order is a logical one as the Gundam is also meant to be used on Earth. Ruido was back to his carefree self and liked the feeling of Earth's gravity, while Marlene was isolated and confined in another room that is surrounded by metal bars. Chall was livid about this, but Marlene told her it was fine. Chall thinks that Marlene could have tolerated the unjust treatment as her Gundam, GNY-003 Gundam Abulhool will be tested soon. Gundam Abulhool is a transformable Gundam capable of transforming into flight mode, and to test this function, it is necessary for it to be developed on Earth. Chall wondered how 874 felt about the trip to Earth. Gundam Meister 874 was alone in the shuttle's cockpit, Veda had assigned her as the pilot. Ruido cheerfully asked Chall about her thoughts on being back on Earth. Chall coldly replied that she didn't feel anything. Subconsciously, she was annoyed by Ruido for not noticing her complex feelings. Chall did feel nostalgic as she was living on Earth prior to joining Celestial Being. However, Earth was too large, and she did not have any 'nostalgic' feeling about the place they had landed on. Besides this, she also had other inexpressible emotions. Chall suddenly blurted out her frustration regarding her emotions; Ruido asked if he had said anything wrong, but Chall replied that it was not his fault and could not explain her outburst.
Few days later, the Meisters boarded a transport plane. The plane also carried Gundam Astraea, so they are likely carrying out a test related to it. 874 informed them during takeoff that the plane will pass by the HRL's Orbital Tower while en route to their destination. Chall was born in Union, and was slightly fearful of being close to HRL's Orbital Tower. However she realized this is illogical and shakes off the feeling. Besides, to Celestial Being, the entire Earth is the enemy. As the unfinished Orbital Elevator, "Tenchu", came into view, Ruido began thinking out loud why humans still choose war despite constructing such structure. He wondered if Aeolia had hoped that these elevators could bring peace, and if that happened, there would be no need for the Gundams. Chall noted that it was already quite good that the construction of the elevators had consolidated hundreds of countries into three major world powers. After saying this, she realized that she was trying to comfort Ruido. She wondered if her indifferent attitude towards him at the shuttle airport was due to her being restless. Ruido then questions if Aeolia had advocated the construction of these elevators as he wanted the world to unite into a single entity. Although Chall replied that he was thinking too much, the truth is she had some misgivings about the organization and its plan. The plane begin to move further away from "Tenchu", although Chall had wanted a close look she did not voiced it out.
Their destination was a town completely decimated by a large-scale battle. Only a few MS is present there now, standing watch over the ruins. The town was close to the Orbital Elevator, and was captured by terrorists who were against the construction of the elevator to serve as their base of operation. It was clear there were no civilians living here anymore. As the plane arrived at the destination, the Gundam Meisters were informed by 874 to remain on stand-by while she heads out in the Astraea. This is unusual, Astraea was Ruido's machine, it had never launched with another Meister as its pilot while Ruido was available. Ruido wants to know what she is doing with his machine, and 874 replied that her mission is to destroy the remaining 4 HRL's MSJ-04 Fantons still in the area. Ruido was surprised. He just had his first battle not long ago, and had experienced first hand people dying due to the fighting. Thus, 874's calm approach made him feel very uneasy. He asked why it wasn't him that was ordered to sortie, and 874 explained that it was Veda's order. Ruido, in his current condition, was assessed to be unsuitable for ground combat. 874 then cuts off communications and sortied. The battle was finished within 36 seconds. The Fanton was known for its heavy armor, but it was useless against the Gundam's beam weaponry. Furthermore, the GN particles dispersed by the Gundam had jammed their communications, they could not call for reinforcements.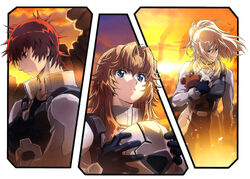 After the battle, Ruido, Marlene and Chall stood on the town's ruins; Marlene was let out on Veda's orders. For such tragedy not to occur again, the Gundams' existence is essential. However, Gundams' participation would also lead to fighting and death. Fighting is fighting, destruction is destruction; that is not what Chall wanted. Ruido suggested that it was time they leave, HRL would soon send a reconnaissance team to check out why the MS team in the town had fallen silent. To remove any evidence of the Fantons being destroyed by beam weaponry, Astraea had obliterated their remains using explosives. Upon further urging from Ruido, Chall walks back to the plane. However, Marlene did not respond and Ruido moves towards her. In her hand was a stuff doll with several burnt marks. Worried that the other two Meisters did not catch up, Chall went to look for them. As she walks near them, she heard Marlene murmured, "No matter when... or where, war will not change. It will always drag in those who are powerless…and cause their death." No one spoke a word, Chall though that Marlene would cry but she didn't. Marlene then continued, "To eradicate war with Gundams... I'll do it! It doesn't matter if it causes tragedy along the way, as long as wars are completely eliminated in the end using the Gundams!" Chall did not know Marlene's past, but she knew it had something to do with her strong determination. Chall wondered if she can continue fighting just like Marlene in the face of a such tragedy. For now, she does not have the answer.
File No.07: Ian Vashti
"All of these are for the Innovators...", 874 whispered to herself. Her existence, her duty, is for this sole purpose. She thought further, "If mankind are not Innovators, then what is human?" This was the topic given to her to ponder since her creation. 874 is not a human, her lifespan is much longer and she also thinks at a much faster speed. In order to understand humans, 874 was made "similar" to them but on the whole, she was still different. Her creator, Veda, took some time to understand this. Subsequently, Veda reassigned the mission of understanding humans to her "siblings", who are more similar to humans.
874's "siblings" have the same body as humans, and can thus integrate better into their society. Some of them are unaware that they are not human, and do not know that what they see and experience will be transformed into data and feed back to Veda. 874's new mission is to observe humanity's suitability as Gundam Meister. Although Veda had changed her mission, 874 felt that "understanding humans" was still an important prerequisite for completing her mission. The Gundams' developments are progressing smoothly, but if they are not used appropriately, Aeolia's Plan will not progress; thus the Gundams' pilots have a heavy responsibility. Two plans had been prepared: human pilots and non-human pilots. Currently, Veda had not yet decided which plan to adopt. According to 874's calculation, human pilots are unlikely to be used. However, she is in no position to decide. Regardless of whether human pilots are used or not, 874's actions and observations as one of the current batch of Gundam Meisters will serve as important references for this issue. 874 felt she needed to collect more data; aside from the Gundam pilots, contact with other humans are also necessary. From this view point, the recent incident was within tolerable range and she started to recall what happened.
With the construction of the three orbital elevators, AEU is one of the three largest group of countries formed and is centred around Europe. AEU's construction of the elevator was the slowest amongst the three. One of the main reasons for this is that the elevator is located in Africa, an area indirectly controlled by AEU but not considered part of its territory. Another reason is that rulings are made after discussions among the member state. The European region does not have a particular country that serves as the center of power, and it does not help that the habit of putting one's own interest before the whole bloc's is still deeply-rooted among the member states. Celestial Being hoped for the completion of the AEU elevator, for if it failed to be completed, the bloc may split apart and this will become a significant obstruction to the Plan. The current mission entrusted to the Gundam Meisters was to collect information about the AEU elevator.
During the briefing, 874 explained that the information to be collected is related to the submarine cables and that surveillance from space had previously failed to do the job. She would launched in the Gundam Sadalsuud to collect the information, while Ruido and his Gundam Astraea serves as back-up. Ruido accepted the task, and from his louder than usual voice, 874 knows that he is in a slightly excited state. On the side, Marlene critiqued Ruido for being excited. 1.23 seconds: that was the time between Ruido's answer and Marlene's response. 874 noted that Marlene's response to Ruido is getting faster, she also noticed that Chall was about to say something, but stopped herself after Marlene's remarks. 874 was curious about their behaviour, and although she could not figure out the rational behind their actions, she still noted them down. Ruido remarked that Sadalsuud is more suited for underwater combat than Astraea as the latter had no underwater weapons, and 874 revealed that AEU had dispatched its new AEU-05 Hellion to the area. 874 noted that Ruido's heart beat had gone up, and deduced that this could be due to a mix of interest in AEU's new MS and his fear of combat. After 874 explained that the enemy MS is flight capable, Marlene wondered if her Gundam Abulhool is ready. She was informed by 874 that the machine is still in final adjustments. 874 wondered why Marlene look disappointed after hearing her reply. 874 is certain that Marlene wants to fight in Ruido's place, but is unsure why. Ruido then assured Marlene that he and Astraea could handle aerial combat. Chall wondered where his confidence was coming from, but she and Marlene both agreed that they can only believe in Ruido. 874 noticed this scene had happened many times, but she still could not understand why.
Later, Ruido encountered a team of 4 Hellions. The Gundam can hover and maneuver in the air thanks to the GN Particles, but it was clear that the enemies were more agile. Ruido engaged using Astraea's beam rifle as close combat is difficult against agile opponents. Although beams move at a higher speed than MS, the enemies were faster than Ruido's aiming. After a few minutes, the enemies were defeated, but the number of shots Ruido fired were three times more than the targets. He had wasted too much time, and although he was depressed, it had nothing to do with his lousy performance. He was sad about killing people, more importantly, he was worried about how he was not feeling as sad as before and becoming more of a killer. At that moment, 874 alerted him of an approaching ship and stated that she will attack it using Sadalsuud. Not wanting further loss of lives, Ruido pleaded her to stop. 874's strong desire to understand humans caused her to respond to Ruido's plea.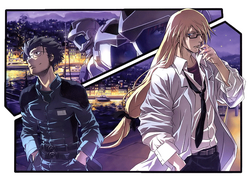 Two were on board the small AEU ship, AEU technician, Ian Vashti, and Doctor Without Borders, Joyce Moreno. Ruido and his team brought them to a small port in South Africa. Usually, outsiders who had witnessed the Gundams were to be killed. However, Ruido, Chall and Marlene refused to do so. Veda prioritizes the safeguarding of secrets; after it was informed of the decision made, it transmitted a second option.
"In order to eradicate conflict, would you like to join Celestial Being?"
Ruido found himself asking these surprising and unexpected lines. As with the norm, Moreno asked, "What in the world are you people?". Ian's reaction was more unique, he asked about their unusual mobile suit. Ruido hesitated as this is top secret information. However, since Ian had already seen it, Ruido replied, "Gundam." Ian's eyes sparkled with awe as he repeated the name.
File No.08: Joyce Moreno
Although the construction of the orbital elevators were still underway, space development had already begun and a handful of colonies, including Krung Thep, were already functioning. The ones making it possible were the labourers who worked in harsh environment, and were paid meager salary for their heavy labour. To obtain resources for constructing the elevators and space colonies, huge asteroids near Mars and Jupiter were moved close to Earth. This work was not only critical, its difficulty was also rarely found in other types of work. The work took several years, and no matter what happened during that period, the labourers cannot return to Earth. The spacecrafts involved in this project were often called "slave spaceships". Marlene Vlady was one of these space labourers.
One day, the incident known as "Mars Tragedy" occurred; in a spacecraft operating near Mars, there was an outbreak of an infectious disease caused by a mutated virus. The labourers on board experienced serious breathing difficulties due to severe lung inflammation caused by the disease. Despite distress signals being sent to nearby ships and to Earth, no one helped. Marlene was among the victims, she wailed in frustrations about no kind soul arriving and helping them. She was one of those that are in a better state, the others did not even have the energy to vent their anger. To Marlene, their contorted faces were saying, "If i'm not breathing…I would be relieved of the pain!". Despite being aware of their sufferings, Marlene was helpless and could only comfort them by saying, "People will soon come to rescue us!" However, she knew sadly, like the others, that the statement was untrue. A dark despair was slowly eating her away.
Few days later, a space labourer arrived to help. His fellow labourers had warned him of the risks, but the man did not take heed. As a man, and as a human working in space, he could not ignore their sufferings. His name was Robark Stad; born from a working-class family, he came with his family to work in space. "To build an environment in space suited for living and for the future generations"; that was his wish. He had a newborn son of the same name, and for him, he hoped to build a world where people trust and help each other. Unfortunately, upon his entry into the spacecraft, he immediately knew he was too late. The only survivor was Marlene; the rest had died. However, some of them did not die from the disease.
Marlene was put on trial for murder and found guilty; the trial did not consider the hopeless circumstances she was in then. The Union enterprise managing the spacecraft put all the blame on Marlene in order to clear themselves of any responsibilities. For this reason, they cured her using the latest technology. Marlene originally intended to use her life to atone for the crime; she couldn't care less about the conspiracy and secret deals surrounding the judgement, she only wanted to have a clear conscience. However, her belief changed dramatically after hearing that her saviour, Robark Stad, had suddenly died in an accident. A person like her had survived, while someone like Robark had died. Marlene felt the world was completely wrong, and became determined to change it. "Survive. I will change the world with my life. Not for myself, but as a tool to achieve this goal…" Later, Veda invited her to join Celestial Being, and she could not help but think that it was fate.
A few weeks after they had descended on Earth, Marlene's Gundam, GNY-003 Gundam Abulhool, has finished its final adjustments. Gundam Abulhool was designed for aerial combat, and had a transformable structure. 874 calmly announced another mission from Veda; Marlene was to carry out surveillance on a team of Hellion that will be launching soon using her Gundam. Ian and Moreno were also present in the meeting, and Ian was surprised that they know AEU's military activities ahead of time. Ian had just joined the organization, so him being shock was normal. Veda had linkages with networks all around the world, and thus could obtain information of any kind in a short amount of time. Looking at the information presented, Moreno was troubled that AEU's target was a village belonging to guerrillas who were against the construction of the orbital elevator. As the term 'village' implies, it not only serves combat related purposes, but was also where family members of the guerrillas lived. If a battle were to occur there, non-combatants will also be hurt. Moreno requested Marlene to do what she can to stop the attack. At first, Marlene did not say anything. However, Moreno's insistence caused her to clarify that her mission was that of surveillance. For her to stop the attack would mean using the Gundam to battle, and all who saw the Gundam will have to be silenced. Moreno pointed out that he's still alive, and Marlene responded that his and Ian's case were an exception, it is impossible to recruit all who had seen the Gundam into the organization. She then told him not to bother her further because she hated doctors. Moreno wanted to know why, but Marlene refused to say the reason. To her shock, Moreno lowered his head in apology on behalf of his fellow doctors who had done her any wrong. Looking at the conservation between Marlene and Moreno, Chall imagined that they were in a relation and whispered to Ruido that Marlene might be intentionally being cold to Moreno. She thinks that Marlene is a tsundere, and explains the term to Ruido. Ruido disagrees with her, but Chall is confident that she is right.
The mission was proceeding smoothly. Gundam Abulhool has higher aerial combat capabilities than the Hellion due to the use of GN particles. The particles' ability to jam radar also removes the enemies ability to search for the Gundam. Thus, the Gundam can tail the enemies without them knowing. Ruido and the rest stayed on stand-by near the village. However, as the Hellion team approached the village, the Abulhool suddenly went closer and attacked them using its GN Vulcans. Although the GN Vulcans were not very powerful, they were enough to destroy the lightly armored Hellion. The battle was one-sided, but one of the damaged Hellion unexpectedly tried to crash into the village. After making a split-second decision, Marlene blocked the Hellion's path with the Gundam. The Hellion collided with the Gundam and explodes. Although the Gundam did not drop out of the sky, it was visibly damaged. After the Gundam landed, Ruido and the team quickly rushed over to get her out. Marlene had sustained serious injuries, Moreno immediately treated her as the rest watched over silently. Marlene pondered why she had done something so pointless; the village cannot be protected forever, AEU will soon dispatch another team to destroy it. To stop this, it is necessary to intervene in the conflict and change the world. Ruido, while watching Marlene getting treated, realized the significance of the explosive collar: "She's wearing it to bind her overly gentle heart… To prevent her from making a serious mistake due to her kindness."
File No.09: Birth and Death
Observers, as the term implies, are responsible for monitoring Celestial Being. If they find any errors that could risk the survival of Celestial Being, they could propose to Veda to stop the relevant tasks or change them. They are the only ones to have the power to veto Veda. It was designed by Aeolia that, while Veda governs, there would be another group of people born of the era that will monitor the organization. Veda does not deliberately hide any information from the Observers, even those that are disadvantageous to itself. However, Observers do not have full access to all of Veda's data to ensure that they do not use crucial information for their own ends and betray the organization. They only have access to information and/or issues within Celestial Being that they are supposed to examine. From the latest information, the Observers learnt that the development of the Second Generation Gundams had ended, and that preliminary test for the armed interventions were in the works.
Astraea was on its way to the battlefield, Ruido was slightly surprised at his own calmness and then recalled what happened earlier. Prior to his launch, 874 had briefed the Gundam Meisters that for the next phase, they would be conducting preliminary tests for the armed interventions. The enemies will be the Hellions, and as they are flight capable, Gundam Abulhool was supposed to be deployed. However, since Marlene was injured, Veda had selected Ruido as her replacement. Ruido used to be quite negative about fighting, but this time he did not hesitate. In his view, Marlene was a kind lady unsuitable for combat, and he wishes to get her out of the fighting. He believed if he fought well, this wish will come true. Ruido was brought back to reality when the E-sensor detected the enemies and sounded. Soaring above the Hellions, he fired 3 consecutive shots from the GN beam rifle and 3 units were shot down. He whispered an apology. Armed intervention is for everlasting peace and Ruido believed that that is justice. He was also determined to fight for Marlene; his heart was neither shaken nor filled with regret, there was also no excitement. Shouting out his resolve to be a Gundam Meister, Ruido fired another shot. The Hellions counterattacked with their smoothbore guns, and Astraea lost its balance evading the attacks. As the Gundam lands on the ground, Ruido chastised himself for being afraid of their attacks. The Gundam has superior armor, a direct hit from the smoothbore gun would not even leave a scar. However, it is still best to evade the attack as the impact from a direct hit is bad for the pilot. Ruido then gave himself some encouragement, and the Gundam flies back into the sky.
Later, a tired Ruido returned to the base and Marlene was the first to greet him. She apologized for getting him worn out, but he responded that he was happy enough that she was concerned about him. In the midst of their conversation, Ruido said, "We can take our own time to understand each other better." Marlene suddenly felt shy, she thinks that these words sounded like a marriage proposal. To extricate herself from the situation, she repeated her apology and thanked Ruido one last time. Looking for more words to say, Ruido stated his love for machines and for piloting. To Marlene, it was obvious that the tired Ruido was trying to act tough. She knows him better than he thought, mental stress had contributed to his tiredness, and the fact that he had killed people is slowly eating away at him. Ruido eventually admitted that he was glad to fight in her place, and upon being asked by Marlene why he was willing to do that for her, he professed that he wanted to cherish her.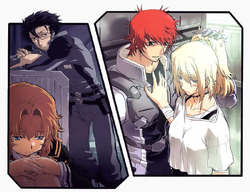 Averting his gaze, Marlene remarked that Ruido had always taken good care of his comrades. She felt that if she had not done so, the word 'love' would escape from her mouth. And then, beyond her imagination, Ruido finally confessed, "Marlene, I love you".
Ian found Chall hiding in a corner of the maintenance facility. He carelessly asked what she's up to and immediately regretted it. Chall was crying. Even though he was bad in handling such situation, he asked what happened anyway as he was the one who had initiated the conversation. It took a long time before Chall answered, "I... am a bad girl. Why can't I simply feel happy?"
One Observer examined the data about the preliminary test for the armed interventions and was satisfied. There was no problem with the Gundam, neither was the pilot harmed, but there was no information about the pilot's mental well-being. "Veda does not possess emotions, therefore it can not understand the human heart," he remarks. This teaching was wide spread among the Observers, and there was a following line that goes "Because of this, Observers, who are humans, were given veto power". The Observer then immersed himself in speculation about the feelings and thoughts that the Gundam Meisters might have, information that were absent in the data.
File No.10: Chall Acustica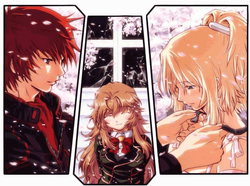 A few weeks had passed since the Second Generation Gundams' development was completed, and Celestial Being had started developing the Third Generation Gundams. It was at this time that Ruido and Marlene decided to get married. Although Chall was depressed when she first learnt of their relationship, she had put it behind her and was happy to hear the news; she sincerely blessed the two. Ruido and Marlene did not plan to hold a wedding ceremony, but Chall insisted they should and proposed a location for these two who she liked a lot. It was at the outskirts of the HRL; a place where cherry blossom trees spread as far as the eye can see. Ian and Moreno could not attend the ceremony due to their work, but surprisingly, 874 accepted the invitation. She even obtained Veda's permission to use the organization's small transport plane to ferry them to the place. Upon arrival at the location, 874 informed Chall, Marlene and Ruido that she had to stay in the plane and congratulated the couple before they disembark. Not much was prepared for the ceremony; as members of a secret organization, their movements are restricted. It was already an exception that they could travel out for reasons other than carrying out their mission. There was no wedding dress or wedding ring, but Ruido removed Marlene's explosive collar as a sign of his sincerity. Ruido had sought Veda's permission to remove the collar, and it had agreed on the condition that Marlene gives up being a Gundam Meister. Without consulting her, Ruido accepted this condition. It was not his intention to stop Marlene from fighting, but it was his wish for her to live her life free as a human being. With Chall as the witness, Ruido asked again if Marlene was willing to marry him, and with tears rolling down her cheeks, she agreed.
Several years later, construction of the Third Generation Gundams were underway. During this period, Marlene gave birth to a girl. After discussing with Chall, Ruido and Marlene decided the child's alias in the organization would be "Feldt Grace", she also had another real name. The organization had child care facilities and also provided normal education for its members' children. In the future, the child is free to chose his or her own path albeit with some restrictions. Although not a Gundam Meister, Marlene was still registered in Veda as a spare Meister as she wanted to be able to fight during an emergency. Other than Ruido, who was helping Ian with the Gundams' construction as he was also a mechanic, Chall and Marlene had nothing to do, so they spent their days watching over Feldt. Ruido once joked that he was not needed as Feldt had two mothers. Marlene also noted that compared to Ruido, Chall was more of a family to Feldt. Chall was touched that they consider her as family. Truth is, Ruido tried to spent as much free time as possible with Feldt. These peaceful days did not last long.
Words of a terrorist attack in which dozens of Hellions crash into the HRL's Orbital Elevator reached the Gundam Meisters' ears two days before it was to occur. Veda decided not to intervene, and concluded that AEU had secretly provided the Hellions to the terrorist to delay the completion of HRL's elevator. It also judged that the attack was unlikely to cause the elevator's collapse. However, Chall still disagreed with the decision. Ruido noted that as long as they had a plan whereby the Gundam and the organization's existence were not exposed, intervention was not impossible. He then told Chall and Marlene his plan. The communication jamming ability of GN particles meant that they need not worry about information on the Gundams leaking out of the battlefield. The problem was that they could not use beam weaponry, the marks they leave behind on the wreckage could indirectly divulge the Gundams' existence. The large number of enemies also made removing the evidence difficult. The attack being near a major HRL facility was also problematic. Ruido then revealed that Gundam Plutone is the key to the mission's success. Plutone would lure the enemies away, and its GN condenser deliberately made to run wild so as to release huge amount of GN particles. These GN particles would then cause the electronics of the enemies' MS to fail and render them immobile. For her safety, Chall would escape in the Plutone's core fighter as the GN condenser malfunctions. Marlene pointed out that the harmful effects of GN particles under special conditions are still poorly understood. Ruido explained that the Astraea armed with GN sword would protect Plutone prior to Chall's escape, and the core fighter would recombine with the Plutone after the suit had used up all its particles. After Chall and Marlene agreed to the plan, Ruido suggested including 874 as Sadalsuud can collect information during the operation, and help recover the Gundams during emergency. He was aware that telling her meant telling Veda, but he still viewed 874 as a comrade. Marlene did not object but wants to be involved as well, she pointed out that her child will be sad no matter who among the three is harmed. She suggested equipping Gundam Abulhool with standard missiles, and since no one can stop her, they started preparation for the operation.
Chall woke up in the sickroom while Ian and Moreno watch over her, and soon recalled what happened earlier. They were able to acquire Veda's approval for the operation, but Plutone's core fighter malfunctioned. In addition, energy level of the GN particles was higher than expected, and this might caused the GN Drive to explode. Chall was shocked as there was no problem with the basic system, and maintenance on the suit was carried out perfectly. She wondered if there was interference from a higher level within the control system, and suspected Veda but quickly brushed aside the thought. Noticing something was amiss, Ruido's Astraea and Marlene's Albulhool approached. Chall tried to warn them away, but they insisted on saving her. "You must live on, Chall" – These were the last words Chall heard before fainting.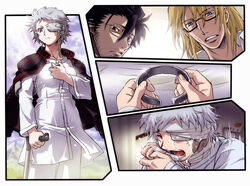 Chall was saved, but it left a huge scar on her left body and left eye. Her hair also turned white. She wondered about Ruido and Marlene, and Moreno handed her Marlene's hair ornament. It was badly scarred. Ruido and Marlene were bathed in a large quantity of GN Particles, and had presumably died instantly. GN particles are toxic under certain conditions. Sadalsuud and 0 Gundam (the latter launched under Veda's order and was piloted by an unknown pilot) recovered the Gundams and the GN Drives. The terrorist attack was neutralized, and talks were held between HRL and AEU. All these meant nothing to Chall; she felt bad for destroying her friends' happiness. She wondered why Marlene's last words were for her to live on, and had no idea what to do with her life. There was no clear answer. She was certain that she could not let their death be wasted, she had to live on and succeed their will. To eradicate conflicts through combat. The ideas of Aeolia morphed into something greater than an ideology within Chall.
Mobile Suit Gundam 00P Season 2
File No.11: Prologue
This season takes place in A.D. 2302. The chapter starts with Grave Violento flight testing the GN-XXX Gundam Rasiel in space, while the 0 Gundam follows behind and provides support. Gundam Rasiel is one of the five Third Generation Gundams; the other four Gundams were also completed but they are not yet ready for testing. Thus, 0 Gundam was used to accompany Rasiel. To activate the Gundams, GN Drives are required and Celestial Being only has 5 such devices. It was decided earlier that Rasiel would be powered using 0 Gundam's GN Drive, and that the transfer of the GN Drive would be done after the test. Thus, this will be the first and last time the two Gundams work together. Gundam Rasiel's model number was concealed as it is a special unit developed under Veda's directions. Details of this Gundam were highly classified and only known by a few people.
Grave met with Ian after the test and was asked about the Rasiel's performance. He noted that it was fine and this displeased Ian. Ian had expected a more detailed answer as even though he was the one who produced the Gundam, he still had limited knowledge of its internal system. Ian then asked about the Rasiel's shoulder thrusters, a propulsion system he had proposed, and Grave respond by giving it high praise. Just then, Hixar Fermi, the pilot of an experimental support machine for Gundam, appeared and intrude into their conversation.
Hixar found their conversation topic boring, and suggested talking about women to lighten up the atmosphere. Grave was uninterested, he explained that he has to report to Veda and walks away. Hixar tried to rope in Ian in order to get Grave to stay, but Ian wanted to pass as he already have a wife and a child. Hixar then gave up and lamented that there are no good women around him. On a regular basis, he only gets to interact with 2 women - the dark Chall Acustica, and the childlike Gundam Meister 874 who only meets people via the monitor. Aware that the organization is recruiting new Gundam Meisters, Hixar feels that having a few more hot women would boost the morale of male Meisters and thinks about proposing it to Veda.
File No.12: Grave Violento
Grave Violento was not only a Gundam Meister, he was also a field agent and his most important mission is to keep Celestial Being's existence a secret. Although the organization had constructed the Gundams in its own secret facilities, it still needs to import raw materials from the outside world. Thus, the organization is not really isolated from the world, and information on its existence could leak out through multiple ways. Complicating things further is that the organization is recruiting new Gundam Meisters. For the upcoming armed intervention, it was confirmed that humans would serve as the core of the Gundam Meister team. Veda had selected the appropriate candidates for each of the other 4 Third Generation Gundams without pilots, and face to face contact with these people are necessary. In addition, there is also a need for at least one spare Meister. Among those listed in the spare Meister candidate list were Lasse Aeon, Eco Calore, and Amy Zimbalist.
While investigating one of the Gundam Meister candidates, Grave discovered that HRL had deployed a special force to capture him. Veda did not have much information on this special force; on the surface, it belongs to a military unit developing Tieren's successor, but Grave deduced that it was related to HRL's "Super Soldier" project as the candidate was a failed super soldier. So far, the HRL project was unsuccessful and in an attempt to search for new directions, they had narrow down the scale of the research. Grave was uncomfortable with recruiting the candidate as he had too many negative factors, but Veda's decision is absolute. Grave sets off in the Gundam Rasiel to save the candidate, and Hixar tagged along as he had a mission in the same destination. They landed the Gundam a few kilometres from a city and left it behind after activating its optical camouflage. They then walked the rest of the journey despite Hixar's protests.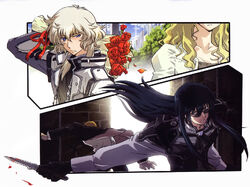 After entering the city, Hixar's mood improved and he was eager to start his mission - "Recruit beautiful women from a city for CB". This was a dream came true for him. The pair then split off and carried out their mission separately. In a small, empty alley, Grave confronted his target, a HRL special force member named "Shep Alwan". Shep immediately ran away, but Grave was able to get ahead of him and in the process demonstrated physical movements that are impossible for a human being. With a dagger in his hand, Grave slits the man's throat open, killing him. Grave then whispered that the first phase of the mission is completed. As there was a commotion on the main road, Shep's body would not be discovered so soon. Grave used the chance to leave the city.
Grave disabled the Rasiel's optical camouflage and flies into the sky, he then spotted 3 Tierens in the outskirt of the city. His earlier killing of Shep had lured the other members of the HRL special force out. Using Rasiel's GN beam rifle, Grave shot down the 3 machines easily in 3 accurate shots. The second phase of the mission was completed and Rasiel Gundam flies away. The wreckage of the Tierens were then dealt with by the agent, Chall Acustica. Using explosives, she removed all pieces of the wreckage containing traces of the beam attack. Chall was previously a Second Generation Gundam Meister, but a serious incident dealt her a severe mental blow, causing her to seal herself off from others, and the physical injuries she suffered then prevented her from carrying out her duty as a Meister. That incident also killed two other Meisters, and in the organization's hundred plus history, was the second most severe incident after the jupiter incident. Grave had decided that he would investigate the incident when he had the time. To him, it was impossible for an incident to just happen during a Veda approved mission.
Grave later met with Hixar at the designated meeting place. Hixar was depressed as his mission had failed. Hixar apologized to Grave as the latter was the one who had proposed the mission to Veda. According to Hixar, he had went after possible targets enthusiastically, but were rebuffed by the ladies. The loud commotion they made attracted the police, and he was even chase by some guys. Seeing how Hixar took the mission's failure so seriously, Grave felt slightly sorry for him. The truth was that Grave had set up Hixar's mission to divert attention from what he was doing. Facing a saddened Hixar, Grave could only repeat that its was fine.
File No.13: Intelligence Agency
Grave and Gundam Rasiel were on their way to AEU for a mission when they unexpectedly encountered 12 AEU Hellion Medium. As the distance between them were too close, it was too late to land the Gundam and activate its optical camouflage. With no alternative left, Grave decided to destroy them in 47 seconds; take longer then that and there is a possibility of the enemy escaping and exposing Gundam's existence. The fight was going well when the Rasiel's beam rifle ran out of energy, and Grave was forced to destroyed the last Hellion Medium by kicking it and causing it to crash into the ground. The battle was over in 46 seconds, and a support team from Celestial Being arrived after receiving Grave's emergency message.
The team consisted of Chall, Hixar, Ian and Moreno. The Hellions' wreckage was concealed using optical camouflage cloak, and Chall reported that Veda failed to predict their appearance as they were launched in response to a surprise attack by HRL. Grave and Hixar talked about Veda's ability to predict future events, and the former noted that it was based on calculating probability. Thus, predicting events like this one was impossible. Their discussion reminded Chall of the accident with Plutone, and the atmosphere suddenly fell silent. Chall apologizes, and then talked about the possible methods used to remove evidence of the attack. She also reported that Veda had hacked into the computers of the meteorological station, as well as sent false information that the team of Hellions were forced to conduct an emergency landing due to bad weather. This would buy them time to complete their work here. She noted that they would take the Hellion parts containing evidence of beam attack, while the rest of the wreckage would be dismantled and sold to the black market. Under the optical camouflage cloak, Ian was busy dismantling the machines and at the side, Moreno was examining the remains of the pilots. Grave then apologizes to Hixar for troubling him when the latter complains about having to be the driver and selling off the dismantled parts. Hixar noted that its is rare for Grave to apologize, and remarked that he is willing to help Grave anytime. Grave didn't gave Hixar a proper reply. Unbeknownst to Grave then, he would regret this decision in the future.
Grave left Chall and gang as he had another mission in the area - to investigate and observe the Meister candidate, Neil Dylandy. According to the data he read previously, Neil lost most of his family to a terrorist attack during his childhood and his only remaining relative is his younger brother. Neil's hatred for terrorists fits with Celestial Being's goal to eliminate conflict, and in terms of skills, he had excellent results in shooting sports. Although his mobile suit piloting skill is unknown, he is likely to be suitable for the GN-002 Gundam Dynames.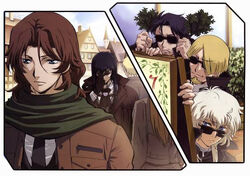 After following Neil for 3 hours, Grave found out that he was generally well-liked by everyone, get along well with others and was considerate about others' feelings. Grave noted all these character traits down, and thinks that he may increase solidarity among the Meisters if he is recruited.
Grave then noticed hat he was being followed, he turned around and easily found Hixar, Ian and Moreno as they were poorly disguised. They were trying to know more about the new Meister, and Grave chided them as what they were doing is against the organization's confidentiality principle. Grave then decided that they should continue their conservation in a different place. They then walk into a small alley, and despite making up excuses and pointing fingers, the three eventually apologized to Grave. Grave then unconsciously asks them about Chall, and Ian replied that she did not want to meet the new Meister. Grave understood Chall's fear of knowing new companions, as she had lost her close friends before. He began to wonder if Neil would be able to heal Chall's emotional wound, but immediately discarded the idea as that is not the reason for recruiting a Meister. Nevertheless, Grave found himself interested in having Neil in the organization.
File No.14: Sefer Rasiel
By linking his personalized terminal to Veda, Grave was able to access certain confidential information. He was specifically given a high level of access to restricted data on potential candidates for the organization. He browsed through the data of Leesa Kujo. A former AEU tactical forecaster, she obtained her qualifications from an international university in the Union. Through the use of effective tactics, she aims to end the fight in the shortest possible time, thereby minimizing damages and saving lives. Recently, she made a mistake and lost her lover in a battle. Grave felt that the fault does not lie with her, but with her superior.
During an operation to recover an AEU facility captured by HRL, the commander-in-charge decided to have a competition between two tactical forecasters - Lessa Kujo and Kati Mannequin. Mannequin was a rare genius who had contributed to many battle victories even while she was in university. The mission plans that the two tactical forecasters had came up with were total opposite, and their Hellion forces entered the facility via the two different entry points. However, the two forces had not expected to meet each other within the facility. Kujo's force found Mannequin's force with a group of HRL soldiers, and were unaware that these HRL soldiers had already surrendered. Both forces reported the presence of the other group and were instructed by their tactical tactical forecasters to confirm whether the opposing force was an enemy or an ally. However, both groups were eager to help their tactical forecasters, and had determined the other group as the enemy without any confirmation. Based on this wrong information, Kujo and Mannequin drew up new plans and gave the attack order. The mistake was discovered a few minutes later, but by then both groups had suffered heavy losses, including Kujo's lover.
Grave felt that the tragedy experienced by Lessa Kujo would made her more sympathetic to Celestial Being's ideology. However, he was uncomfortable with recruiting people still drown in their sadness. He was then reminded of Chall, who had also experienced similar tragedy, and wondered whether Kujo's experience would be helpful to Celestial Being.
Chall visited Moreno's medical office for her regular treatments. To lightened the mood, Moreno asked how he looked with the sunglasses; he had first worn it as a disguise when he followed Grave to know more about the new Meister. Chall finds it weird, and Moreno replied that Ian and Hixar had commented that it looks good on him. This conversation was also Moreno's way of trying to help heal her emotional wound. After Chall left his office, Moreno admitted to himself that there was nothing much he could do. Treatments for the physical injuries suffered by Chall during the "Plutone Tragedy" where she was bathed in a large amount of GN particles were almost complete. The large doses of GN particles had caused cellular disorder. Her telomeres were damaged, this not only rendered regenerative treatment useless, but also affected the normal division of her cells and this usually lead to death. The one who had saved Chall was Gundam Meister 874, she gave Moreno nanomachines capable of repairing the cell disorder and even the damaged telomeres.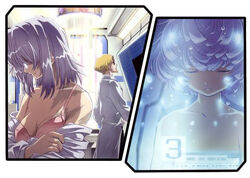 Moreno was shocked by how advanced the nano machines were and noted that they could be used to achieve perpetual youth. He wondered how 874 acquired them. As these nanomechines would eventually be passed out of the body, Moreno had to periodically introduce new nanomachines into Chall's body. While treating Chall, Moreno also researched on GN particle toxicology and discovered that the cellular disorder caused by GN particles only happen when the particles are in certain high energy states. This also implied that by changing the particles' energy state, there could be beneficial cellular effects. Moreno informed Ian of the harmful energy states so that he could adjust the Gundams and prevent a repeat of the tragedy. Veda also supported Moreno's research and granted him access to medical-related data. Moreno was surprised by the information Veda had on medical treatment and biology, in fact, they were way above the level needed by an armed organization. He wondered if the nanomachines from 874 were related to these information, but brushed them aside as they had noting to do with treating his patients.
Few years ago, a body was constructed for 874 who existed only in data form. She needed a body as she was selected to be a third generation Gundam Meister and would be participating in the actual armed intervention. The body had the look of a 10-year old as well as 874's facial features, it was produced in a few hours by assembling more than 60 trillion pre-made cells together. It will not grow anymore or age, and has within it many nanomachines not found in humans. Looking at the body, 874 wondered if she used it, would she be taking a life. The Plutone Tragedy had changed her view of life. She viewed this change positively, it meant that she is closer to being a human and is also a step towards completing the mission that Veda had given her - to understand humans. She informed Veda of her decision to reject the body, and Veda respected it. The body was then given the character data of 887, and became a different individual.
Back to the present, Grave received information on the Meister candidate who was also an escapee from the HRL super soldier project - Test Subject E-057. He launched in the Rasiel to investigate, but upon reaching the destination, he found that it was a trap. The trap was set by HRL's Next Generation Technology Development Laboratory, an organization created to developed Tieren's successor machine. The organization was helping with the previous failed attempt to capture the super soldier escapee (see chapter 12) when two of their pilots witnessed the Gundam. It then set up the trap to capture the Gundam, and launched a Tieren variant piloted by First Lieutenant Delphine Bedelia, and Second Lieutenant Leonard Fiennes. Leonard was a young super soldier dispatched from the super soldier facility, but his ability was not that high. Despite Grave's predicament, he was not worried. Hixar, piloting the GN Sefer, was on his way to support him. Gundam Rasiel can combine with the GN Sefer to form the powerful GN-XXX+GNR-000 Sefer Rasiel, and Grave was aware of this.
File No.15: Sefer Rasiel (2)
To reduce the chance of being discovered, Grave stops the Gundam Rasiel and activated its optical camouflage. Just then, 16 VMS-15 Union Realdo fly above the Gundam. It was a trap; Grave arrived at this location as Veda received news that Test Subject E-057, a Meister candidate who was an escapee of the HRL super soldier project, was caught by Union. However, Grave had not acted to save the candidate as someone new could always be found. He was here to discover the real motive of the one who had leaked the news. He found the deployment of so many Union Realdos to capture one person illogical; they seem to be deployed to fight against a large enemy force or something very powerful like the Gundam. Grave was certain that the mastermind was from HRL, only those in HRL could know about the secretive super soldier project. The mastermind is likely to know about the Gundam as Grave had previously killed the forces sent to capture Test Subject E-057. Since Union was unlikely to cooperate with HRL, Grave concluded that the Union forces were being made use of. He then deduced that the Union forces were implicated as the mastermind had not reported the mission to the superiors in HRL, and could only deploy a small force. Capturing the Gundam would allow the mastermind to gain favour with the superiors in HRL, thus the mission was unreported. Grave decided to observe the situation before taking actions. New instruction from Veda was also likely to be issued soon.
In Celestial Being's hangar, Hixar received the order to sortie. Ian advised Hixar to see Moreno as he seemed to have caught a cold. Hixar replied that his sneezing was just sign that women elsewhere were thinking of him, and this made Ian comment that Hixar does not need Moreno as stupidity cannot be cured. Sensing Ian's sarcasm, Hixar bragged that Ian had kept his own daughter from coming to the base in fear that she'll fall for him. From behind, Linda Vashti, Ian's wife, explained that Mileina was too young to be involved in Celestial Being. Hixar and Ian were surprised and glad to see Linda on Earth. Linda had arrived from Lagrange 3 to deliver the GN Sefers. Hixar complimented Ian and Linda for their work, and sortied. Hixar was leading a team of 3 GN Sefers, one piloted by himself, the other two by Haros.
Hixar's GN Sefer flies above the Gundam Rasiel and destroyed one Union Realdo, the other two GN Sefers followed behind. Grave then disabled Rasiel's optical camouflage and soar into the sky. The Rasiel combined with some parts of the 3 GN Sefer to form Sefer Rasiel Form 3. The uncombined parts of the GN Sefers left and circled the battlefield from a distance; they were spreading GN particles, and creating a larger communication jamming area. Grave commenced his attack of the Union Realdos using the GN Proto Bits attached to Sefer Rasiel. During the battle, Grave looks out for activities on the ground as that is where the HRL force is hiding. Sefer Rasiel was then hit on the side, and Grave spotted the Tieren Kyitwo. He launched the GN Proto Bits as remote weapons at it. Amazingly, the Tieren Kyitwo dodged the Bits' attacks that were fired from extremely close range, and even managed to shoot them down. Hixar's machine was also shot down later. After exhausting all of the Bits, Grave prepares for close combat. Suddenly, 5 GN Sefers led by Gundam Meister 874 appeared; these machines were backup prepared by Veda. 874 passed over the Bits' control to Grave so that he could use Sefer Rasiel Form 4.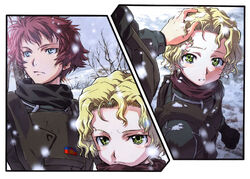 Having 5 Bits on each side, Sefer Rasiel Form 4 resembled an opened book, fitting for a mobile suit whose name means 'Book of Angels'. 4 of the Bits were launched at the enemy, the rest remained on the suit, and would be launched when the first 4 Bits returned for recharging. The cycling of Bits allowed for continuous attacking. Under such severe attack, Tieren Kyitwo was unable to dodge and attack simultaneously. Hixar was confident that victory is near, but Grave and 874 knew that they are near the time limit. Grave stops his attack and the Tieren Kyitwo left. There is a need to remove evidence of the Gundam's attack before Union's reinforcement arrive. The HRL force that the Tieren Kyitwo belongs is unlikely to divulge Gundam's existence and would attack again, so letting it go is fine.
Leonard got out of the Tieren Kyitwo, trembling non-stop. He lied to himself that it was due to the cold, snowing weather. He had obtained excellent results in mock battle, but real combat was different. Although he is a super soldier, the terrifying abilities of the Gundam made Leonard once again felt like a powerless child. Delphine was not surprised by his reaction as she was also terrified during the battle. To her, Leonard's performance was already beyond expectation, and without him, she would be dead. She softly caressed Leonard's head and praised his performance, cheering him up. She then thought that surely next time, they would grab victory in their hands and it is also for Leonard.
File No.16: AEU Assault
In a room, a group of mercenaries were listening to their leader's analysis of the various reports and pictures scattered around them. Among these reports and pictures were 1) records of the battle near HRL's orbital elevator 10 years ago where the mobile suits of opposing sides stop functioning before the fight, 2) a list of parts from a group of missing Hellions being sold in the black market, and 3) a video recording from the group's surveillance camera showing an unknown Tieren variant (the Tieren Kyitwo) fighting with another unknown MS (Sefer Rasiel). The leader felt that all these happenings are related to a third party that had concealed evidence of its existence very well, and remarked that it was good opportunity to earn some money. The group of mercenaries had met the person who they now see as their leader by chance, and thanks to his command, the group's financial situation improved and their supply woes were solved when they signed a contract with AEU.
The group borrowed several weaponry from AEU including the AEU-MA0707 Agrissa Type 7, and laid a trap for the third party in the desert. Earlier on, the group had spread rumors of a mysterious organization; they hoped that it would lure the Tieren Kyitwo to them, and thus forced the third party to appear. Even if the Tieren Kyitwo did not appear, the propagation of the rumor would made the third party appear as they would want to stop it. As the last resort, the group was prepared to make public the video they had, but this would draw the attention of other interested parties as well.
As the group expected, the Tieren Kyitwo appeared. Delphine and Leonard were unaware of the trap, they were here simply to capture the Sefer Rasiel. The two pilots spotted AEU force in the area (actually the mercenary group), and was bewildered. Leonard later told Delphine that he sensed the Gundam approaching, and was uncomfortable with the AEU force in the area. Although Leonard was young, he had been trained as a soldier and rarely expressed his discomfort verbally. Delphine quickly realized something was wrong and decided to retreat.
In the Gundam Rasiel, Grave received updates from Veda and became aware that the Tieren Kyitwo had retreated while the AEU force remained. Grave was certain that the one who had spread the rumor was after Celestial Being. Thanks to Veda's capabilities, Grave knew that the AEU force was actually a group of mercenaries. The Gundam was not accompanied by the GN Sefers as the enemy was a small force, and because the GN Sefers were overused in the last battle and hence still under maintenance/repair. Grave was however unaware that the leader of the mercenaries had conceal the group's true numbers. The leader knew that tricking the opponent into letting his/her guard down was the only way to win the very powerful enemy.
A few minutes later, the Rasiel shot down a few Hellions. The remaining Hellions retreated, leaving the Agrissa Type 7 alone. Grave then received a light-wave communication from the machine, and was asked, "Are you interested in knowing how we know about your organization's existence?" Grave hesitated, he felt that if his actions had led to the organization's existence being leaked, he would like to know the reason. The pilot of the Agrissa left its cockpit with both arms raised as a sign of surrender. Grave decided to confront the pilot and landed the Rasiel in front of the Agrissa. The Argissa then suddenly jumped towards Rasiel, and Grave noticed that the pilot had in his hand a remote control for the machine. Grave was also shocked that he fell for a cheap trick. The Agrissa deployed its plasma field, trapping Rasiel. Although the Gundam can withstand the electric shock, Grave's body could not. Even though his body was in great pain, Grave's mind remained clear. Rasiel shot at the Agrissa and the enemy machine fell silent.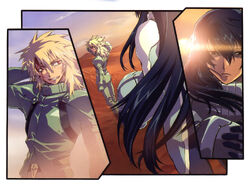 As the Agrissa's cockpit was open, the enemy pilot was able to escape by jumping down. After jumping 30m down to the ground, the pilot was buffeted by his machine's explosion. Despite the injuries, the pilot got up and walked away as if nothing had happened. Grave alighted from the Rasiel and calls out to the pilot. The pilot turned around; Grave removed his helmet and the other party respond in kind. The pilot was surprised by Grave's long hairs, while Grave was surprised that his opponent was so young. Upon being asked for his name, the pilot burst into laughter as the question was unexpected. The pilot replied that his alias is "Fon Spaak", and explained that the name originated from his distinctive laughter. "How did you know about us?," Grave inquired. "I gathered evidence," Fon retorted and described in great details how he had analyzed the evidence. He commented, "It was hidden too perfectly. Usually, when a human does something, some parts would be glossed over. Thus, the over perfection attracted my attention." Grave was taken aback by this, there was no way to avoid this problem caused by over perfection. Grave tried to stop Fon from leaving, but the latter is confident he would not be killed. Grave received a message from Veda and Fon correctly guessed that it was to let him go. Fon was confident as his analysis had told him that Grave's organization prioritized the recruitment of talent, and he was one. He added that he was not interested in joining the organization as he wanted revenge. From the way he spoke, Grave was certain that Fon would not leak out the organization's existence.
File No.17: New Gundam
In space, Grave, 874 and Hixar were testing Sefer Rasiel Form 5. To complete the form, 4 GN Sefers were used and they were piloted by Hixar, 874 and 2 Haros. The GN Sefer team was led by Hixar, and although 874 was not an official pilot of the machine, she joined them as she was tasked to collect the test's data. 874's presence made Hixar uncomfortable. In the previous mission (see chapter 15), her performance outshone his and Hixar was worried that she may replace him if he did not perform well this time. The sight of Sefer Rasiel Form 5 awed the pilots, except for 874, who asked Grave to test the Bits. Grave launched the Bits but could not control them properly. 874 asked him to transfer some of the Bits' control to her; she also requested for Hixar's help. 874 and Hixar's GN Pods (GN Sefer without the Bits and the Core Block portion) can control the Bits to a certain extent, and the transfer of the Bits' control was done via Veda. Grave later remarked matter of factly that controlling 8 Bits simultaneously is difficult. Hixar misinterpreted his mood, and tried to cheer Grave up by saying it will be fine as he and his GN Pod can provide support. 874 agreed but added that it may not be enough. She felt that to solve the issue there may be a need to get more pilots for the GN Sefer, or replace the current pilot with someone better. Aware that 874 was implying that he was not good enough, Hixar pointed out that training can improve one's skills. To his surprise, Grave agrees and wanted the training to start right away. Hixar tried to wiggle out of it but failed miserably.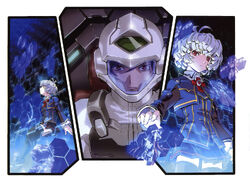 At the same time and not far away, Tieria was testing the GN-004 Gundam Nadleeh and 874 was checking the test data. 874 could watch over both tests simultaneously as she does not have a physical body and existed only in data form. For the Sefer Rasiel's test, she was controlling her GN Sefer through Veda. Tieria is very special, even Grave who is responsible for recruitment is kept in the dark about his existence. The reason for this was that Tieria and Nadleeh had a special mission: to prevent betrayal using the Trial System. This information was a top secret in the organization. Trial System was supposed to be tested by Gundam Plutone, but it was not done due to Chall's incompatibility with the system. The next plan was to have Veda's most trusted follower, 874, test the system. A Gundam with Trial System was created for her, but the plan was dropped when 874 rejected her physical body (see chapter 14). Finally, Veda created Gundam Nadleeh and Tieria was selected as its Gundam Meister. Veda was very strict in guarding the pilots' data, thus 874 didn't know why Tieria was selected.
874 returned her focus to Nadleeh's test. Tieria was a very suitable pilot, while the Gundam Nadleeh was lacking in combat capabilities. There is a reason for this; Nadleeh was not meant to engage in combat directly, it was to be fitted with additional parts and disguised as another machine for the armed intervention. This was for the effective usage of the 5 GN Drives, and to protect Nadleeh's true characteristic from being discovered. The concealment of a MS within another MS has its roots in Nadleeh's predecessor, Gundam Plutone and its escape mechanism - the Core Fighter. 874 felt the Core Fighter was unlikely to be used in the future as it would not survive a battle that resulted in the Gundam's destruction. It could however be used in a different manner, like what happened in the 'Plutone Tragedy'. The thought caused 874 to shift a bit of her attention to the hangar where Plutone was stored, she noticed that Chall was standing in front of the Gundam. 874 can empathise with the complex feelings Chall is having.
Nadleeh was later transported back to the development department, and fitted with additional parts to become the GN-005/PH Gundam Virtue Physical for another test. Tieria stood before his transformed Gundam, besides joy, he was also filled with a heavy sense of responsibility. He was determined to overcome any obstacles to achieve the goal of eradicating conflict. He hoped that he can do this without using Nadleeh, and was aware that he would be using Virtue most of the time during the armed intervention. Amongst the Third Generation Gundams, development of Virtue was the slowest. Other Gundams were also behind schedule, but this was only limited to certain components. For Virtue's case, the whole MS was behind schedule. Tieria later realized there was no need to be so tensed as the armed intervention is still some time away, and left to rest. 874 observed Tieria while he was in the hangar. She felt there was more to him than just the pilot of a special machine. Tieria looked at his Gundam in a manner similar to Chall, but 874 knew there is a difference between the two. However, she was unsure what is the cause. She then realized the meaning behind her existence: to convey to Veda what a human really is. Although this was not her mission, 874 was certain that understanding humans would be beneficial to the Plan.
874 was sorting and analyzing the data of the two tests when she noticed that Hixar and Grave are still training. To her surprise, Hixar's skills are improving faster than expected. She marveled on humanity's unpredictability and found herself smiling. As she continues with her work, 874 imagines how she and humanity would use their power to change the world and the Plan.
File No.18: Gundam Virtue
To test the Virtue Physical, a mock battle was held between it and Rasiel; the latter was also supported by 1 GN Sefer. In the Rasiel's cockpit, Grave was thinking about other issues unrelated to the mock battle. He was concerned that Veda had rejected all his candidates for Gundam Exia's pilot, it was as if someone had reserved that position for another person. He was also surprised that Virtue Physical was piloted by someone he know nothing about. Grave then deduced that Tieria could be an Innovade created by Veda, just like himself.
Grave was one of the selected people in the organization that knew about the Innovades; Innovades are artificial life forms created using human DNA as a base, they are a mimic of the Innovators - a new breed of human beings believed to be appearing in the future. In truth, there already exist some Innovades who have the abilities to be a Gundam Meister. Until a few months ago, Veda was still undecided on whether humans or Innovades should be Gundam Meisters. However, after 874 refused to pilot her new Gundam, and a proposal from an senior Innovade, Veda finally decided that the Gundam Meisters should be humans. If Veda had selected Innovades to be Gundam Meister, all of Grave's investigations on the human Meister candidates would be wasted. Even though Veda had made the decision, it apparently did not want the whole Meister team to be humans and Grave can understand why. It was a safety measure; Veda had always include various safety measures in its push to realize the Plan. Having Tieria as the pilot of Gundam Nadleeh, which has the Trial System, was also a safety measure. It seemed that Tieria was not told he is an Innovade to avoid destroying the harmony within the Meister team. Grave was determined to carry on his investigations on Meister candidates, and decided to investigate Tieria using the mock battle.
Not long after the battle had began, Grave realized that Virtue Physical was a very powerful machine. Under Grave's command, Hixar launched the GN Sefer's Bits and manoeuvred them behind the Virtue Physical. However, the Bits' beam attacks were easily blocked by Virtue Physical's GN Field. The Virtue Physical was armed with mostly projectile weaponry, hence it could devote almost all its GN particles to the GN Field, making its defence rock solid. The Bits soon returned to the GN Sefer for recharging, and Virtue Physical seized the opportunity to lower its GN FIeld and fired the GN Missiles in its legs. As Grave evaded the missiles, he noticed it was a trap for the next attack. Virtue Physical fired its sole beam weaponry, the GN Beam Cannon, and Grave was aware of its destructive power as he had watch a video of it easily destroying a group of asteroids prior to the mock battle. As Rasiel had lost its balance while avoiding the missiles, Grave could not evade the attack. He then took control of the Bits and positioned them in front of Rasiel to block the attack. However, Hixar unexpectedly plunged his GN Sefer into the line of the beam attack. The GN Sefer was spewing lots of GN particles, and Grave realized that Hixar was trying to diffuse the attack using the particles. Although Hixar's plan worked, his cries of victory soon turned into scream of agony as GN Sefer exploded from the beam attack as well as the stress placed on its GN Condenser. The explosion was so large and fast that there was not enough time to separate the GN Pod. After the explosion subside, Grave immediately recovered the GN Pod's wreckage and rushed back to base. Although the mock battle was still on, the Virtue Physical did not continue its attack.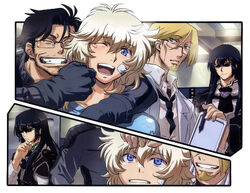 A few hours later, Grave arrived at the infirmary after Veda notified him that Hixar had regain conscious. To his amazement, Hixar was smiling energetically while being hugged by a very happy Ian. Grave thanked Moreno but the doctor said he didn't do anything. He explained that Hixar's pilot suit was totally blackened and there was nothing he could do; the treatment was done by robots under Veda's control. Overhearing this, Ian joked that Hixar survived as he was not treated by the 'quack doctor'. Hixar told Ian to drop it and apologized to Grave for how he acted earlier. Grave was surprised and did not know what to say, he later showed his gratitude by grabbing onto Hixar's hands tightly. Hixar then complained about Virtue Physical's pilot going all out, and Ian remarked that it was an accident, the limiter had malfunctioned. Ian apologized to Hixar when the latter faulted him for not doing the maintenance work properly. Moreno then showed the furious Hixar to the next room using the pretext that he needs to conduct a checkup. Ian apologized to Grave and noted that everything was in perfect condition when he had completed the maintenance. Grave wondered if someone was trying to kill him. Ian replied that he was unsure, but it was best for Grave to be more careful and he would also take more precaution. Both men then left the room with a sense of unease.
Back in his own room, Grave thought about all the things that had happened. He then connects to Veda and asked if Tieria had asked about Hixar's condition. Veda responded that Tieria had inquired about Hixar several times. Grave was satisfied and accepted Tieria as a Gundam Meister. It didn't matter if Tieria wasn't human, as long as he had a human heart that worried about his comrades.
File No.19: Escaper
In the darkness, a man woke up; he has two personalities that normally coexisted in peace. However, one of the personalities discovered that he had full control of the body when his partner sleeps. With this, he was free to do whatever he wanted. He did not hate his partner, it just that they have very different character and his partner's actions sometimes irritates him. The man was a wanted person and could not move freely in the day, thus the personality thought it good to go out and release the build up stress. He apologizes to his partner and left the hiding place.
In a red Hellion Medium, Fon Spaak battles the Tieren Kyitwo while laughing loudly. Fon Spaak was the man's alias, and it originated from his distinctive laughter: 'Fon' refers to his laughing sound, while 'Spaak' was a reference to an explosion. The menacing laughter unnerved both Leonard and Delphine. Fon told them to be prepared, and from his voice, one could imagine that he was saying this while sticking out his red, forked tongue. Based on Leonard's analysis, Delphine aimed and fired, but Fon easily evaded her attacks. Delphine had to pull the trigger as the super soldier was still a kid and could not do so himself. Leonard's calculations were perfect, so Delphine wondered if she was the problem. However, the Tieren kyitwo had went through numerous tests and this was never found to be an issue. She concluded that Fon was a very skilled pilot. Leonard and Delphine met the Hellion Medium while tracking down the Gundam Rasiel, and recognized it as the one using the Agrissa type 7 when they last tried to find the Gundam. Since they met the same machine twice, it was likely the Hellion Medium was also after the Gundam. Their guess was right, Fon had hoped that gathering all those who knew about Celestial Being's existence would lure the Gundam out. However, 10 minutes had passed yet the Gundam was nowhere to be seen. Fon decided to play his last card; he moved his machine extremely close to the enemy's line of attack and allowed its legs to be shot off. Fon though the Gundam was unwilling to appear and fight with two parties who are after it. Thus, if one party was seriously damaged, the Gundam might be more willing to reveal itself. However, the Tieren Kyitwo retreated without giving the finishing blow. Fon remarked that the enemy was smart and had noticed the trap. He then notified his subordinates who were hiding nearby.
Delphine and Leonard later received a special mission and changed into civilian clothing. They were walking on the streets at night, in a city close to the earlier battle. Leonard wondered if it was right to retreat. He noticed the enemy pilot had allowed himself to be shot down and warned Delphine it was a trap. She then made the decision to retreat. Delphine assured him that it was the right choice, and Leonard brightens up. Looking at his smiling face, Delphine felt a sense of unease. Her superior had told her that super soldiers were merely weapons, and should not be treated as humans. She could not accept that Leonard's rights as an individual to be denied simply because he had extraordinary abilities. Leonard's mood suddenly changed, and Delphine noticed a murderous aura. A young man appeared in front of them, his face was partly hidden by his hood but a wicked smile can be seen. Delphine thought he is the pilot of the Hellion Medium. The man correctly guessed that they were from HRL and Leonard is a super soldier. Delphine realized that he is their target, the test subject who escaped from the super soldier project.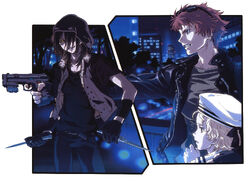 He was one of the many that had escaped, and rumors about his survival had surfaced periodically. A special HRL team was assembled to capture all the escapees, but the team was mysteriously eliminated.
A pair of knives appeared in the man's hands and he remarked, "Both of you are really unlucky. It's my free time now, and my partner's not here to stop me." Delphine immediately drew her gun. As they are about 10m apart, Delphine has the advantage, but Leonard who could not fight was beside her. She thus decided that she would fire if the man take another step. The man asked why she wanted to protect Leonard, and questions if he was her child. When told by Delphine that is not the case, he wondered how they are related. Delphine did not answer, she did not want him to have the initiative. The man turned to Leonard, who answered, "An important person". The man was speechless as the answer was unexpected. Leonard warned him that Delphine's shooting skill is superb and he could be hurt badly. The man replied that given the distance, as long as he was not shot in a critical spot, he could stab one of them. The two stared at each other, but Leonard soon suffered from a bad headache. Delphine knew that super soldier suffered from some side effects related to quantum brainwave, and felt that Leonard's headache was caused by the man.
Surprisingly, the first to break the tensed silence was Leonard. He begged, "Please. Don't make Delphine shoot you..., if she shoots and kills you, it would hurt her heart." Delphine was shocked, but as she tried to verbalised her denial, she realized she was afraid of death, including the enemy's. She also realized that during their battles so far, Leonard's instructions never resulted in a fatal shot. She had thought that she failed to follow his instructions, but it now seems the truth was Leonard had deliberately avoided causing fatal damage. The man refused to act as told, while Delphine found that she could not shoot him. Leonard then said, "If you don't leave, I will wake "him" up. "Him" who is inside you". The man was troubled and replied "Tsk, guess I have no choice." Delphine didn't shoot him as he walked away with his back exposed. There were simply too many things she was unaware of and she felt lost.
File No.20: Innovade
In a research facility safe from surveillance satellites' spying, a mock battle was ongoing between Tieren Kyitwo and enslaved Hellions. As international laws banned direct usage of enslaved enemy units, these Hellions had special markings to show their new affilation. Inside Tieren Kyitwo, Leonard gave the shooting timing, and Delphine pulled the trigger, 'shooting down' the Hellion. The Hellion that was 'hit' lands, reregistered as a new unit and reenter the battle. An hour had passed since the battle began and 15 Hellions had been 'shot down'.
Delphine wondered if she could continue with the mock battle because lives aren't at stake. She proposed the battle as she wanted to confirm what Leonard had said. While protecting her from the escaped super soldier test subject, he had said that she would be hurt emotionally if she shoot and kill someone. Why and how he arrived at this was unknown. Perhaps he noticed her true nature during their partnership, or perhaps his super soldier abilities sensed her true psyche. Delphine had almost no combat experience prior to partnering with Leonard. During their battle, she had never shot down an enemy unit and thought it was because the opponents were too strong. However, it now seems that Leonard had deliberately caused the attack to miss as he did not want her to kill anyone, and had done so without her noticing. He could have slightly mistimed the attack, or move the Tieren Kyitwo a little when it fires its weapon. Although young, Leonard was a super soldier and all these were within his capabilities. In the mock battle, Delphine managed to hit the targets, something she had never done in real combat, and she realized it was because of Leonard. She always knew that Leonard was kind hearted, something a soldier should not be, and she now accepted this fact about him. The problem was whether she could kill people. She was aware that in the battlefield, she could not always be protected by Leonard. If this continues, it will eventually cost them their lives. She has two paths: 1) accept that she cannot kill and leave the army, but she will worry about Leonard who would not leave the army, or 2) prove that she can kill in a real battle. Delphine felt the latter was easier, but was unsure if she could do it. During battle, she would have to ignore Leonard's instruction, and try to counter his actions that were prompted by his wish for her not to kill. No matter what, Delphine knows that she need to find the answer to her question soon.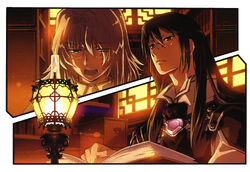 In a dimly lit room, Grave was reading when an unexpected guest, Chall, arrived. Grave had work with her many times, but this was the first time she visited him in his room. Chall recounted what she heard from Moreno about the accident involving Hixar, and added that the doctor also mentioned that Celestial Being had very advanced medical technology. Then, with a slightly tremblingly voice, she inquired, "Can Veda possibly revive people from the dead?" Grave couldn't explain to her what he knew, as he was bound to confidentiality by Veda. Despite this, he couldn't give her false hopes about her lost companions. Choosing his words carefully so as to not go against Veda or hurt Chall's feelings, he explained that Hixar's miraculous recovery was because he was not dead and thus, it was too much to expect the organization could revive the dead. However, Chall did not give up and speculated about the possibilities, and this showed Grave how badly the loss of her companions had affected her. Grave was forced to tell her that Veda is not god. To Chall, these words were like sentencing her companions to death all over again.
In Celestial Being, there are non-human members known as Innovades. They have the appearance of a human and work under the guise of a human, but the truth is they are artificial lifeforms with abilities surpassing that of humans. Grave is also an Innovade. However, some Innovades do not know they are not humans. Using his special authorization to read through Veda's data on the organization's members, he found that Hixar was registered as "Human", but having seen the accident, he doubts it. Since Hixar's behavior did not change after the accident, he was not replaced by a fake. Although Innovades are created to be human-like, they are not a clone of any person. Rather, they are typically created using gene templates prepared beforehand. Cloning a human was not impossible, but doing this for HIxar, pilot of a support machine, was unnecessary. This meant Hixar was not a human in the first place. As an Innovade, Grave was not shocked by this, the question was why this was covered up. Many innovades served as Veda's ears and eyes, so it is possible that Veda created Hixar to spy on the organization's members. However, Grave did not feel it is so simple. Too many accidents had happened during the selection of the Gundam Meisters, although individually they are minor, Grave felt uncomfortable when he sum them together. "Someone is interfering with Veda, distorting the plan." This may seem impossible but Grave knows this way of thinking is dangerous. Time for the actual armed intervention is arriving, if this problem is not solved, Grave felt the whole Plan could be affected. Grave is now in the Rasiel on a Meister candidate related mission, and next to his machine is Hixar's GN Sefer. Hixar remarked that Grave is being cold towards him, and wanted him to say something. Grave did not respond as there is an 'obstacle' before him.
File No.21: Swift Current
Two MS are confronting each other; the battle has not started but the atmosphere was tensed. In Rasiel's cockpit, Grave wished he did not have to fight them. The pilots of Tieren Kyitwo had witnessed the Gundam several times, but there is no need to kill them as they are unlikely to spread news about the Gundam or the organization. However, this does not change the fact that they are enemies, and why Veda ordered their elimination. Still, Grave felt the order was too sudden and began to recall how it started.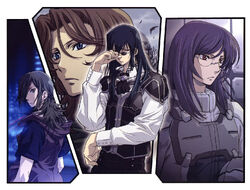 In his room, Grave was linking to Veda via his computer when informed of his dismissal from the mission to recruit Gundam Meisters. Grave was left speechless as he was created for the recruitment mission. However, he was more concerned about the recruitment of the last Meister, the pilot for Gundam Exia, and inquired Veda about it. Grave had proposed several candidates but all were rejected. This made him think there is something more to Exia. He knew about Exia's role in dealing with traitors, and understand why Veda was so cautious, but this did not mean his candidates were unsuitable. He deduced that either the decision was prompted by something he was not privy to, or the worst case scenario had happened - a traitor had appeared. Grave had noticed some strange things like Hixar being an Innovade but registered as a human. Hixar was not an important member, and the only thing one could get out of using him was to spy on Grave. Grave sensed something was afoot, and was determined to find it and get rid of it.
Through the limited information provided by Veda, Grave discovered that someone had suggested a candidate and it was approved. Follow-up actions were in the works, and Grave was relieved there were some progress. Grave had no problems with the candidate being proposed by others as an unsuitable candidate would be eliminated in the subsequent tests. When making a decision, Veda could be rigid or flexible. If the suggestions did not hurt the Plan, Veda would approve them. This is flexible; it allowed Aeolia's Plan to proceed, evolve and adapt to the changing circumstances. On the other hand, if the matter is critical to the Plan, Veda would not give way. This is rigid; it makes up the core of Veda and nobody can change it. Regarding the Gundam Meisters for the armed intervention, Veda is rigid; they must have the necessary skills and fully agree with the organization's ideology. Grave was most afraid that the failure to select Exia's pilot would cause the armed intervention to be conducted with only three Gundams. Thankfully, this situation which would be very beneficial to a traitor was averted.
Grave assessed the known selected Meisters. He believed Neil Dylandy would improve relations among the Meisters, and also play an important role besides being a Meister. For Test Subject E-57 (Allelujah and Hallelujah), Allelujah is kind and could understand others' pain, while Hallelujah would not interfere with others without good reasons. Grave felt they would perform well. As for Tieria Erde, although he is unaware that he is an Innovade, he knows that he is special as he can link up with Veda. Grave thinks he will be fine if he displays the feelings he had shown during the accident with Hixar. Grave trusted the Meisters, and believed they could fulfil the organization's goal. Even if they meet with a problem, there are still other companions around. The support organization that Chall had proposed to Veda would also be very helpful.
Grave felt there was not much problems left, and expected the party causing them to act soon. Veda later assigned Grave a new mission: Eliminate those who had witnessed the Gundam, and know about the organization's existence. The targets were Fon Spaak and Tieren Kyitwo's pilots. They were previously off the kill list as they were deemed unlikely to reveal the organization's existence, thus Grave concluded this was the work of the obstructing party. Grave thinks the trap was set knowing that he would faithfully carry out Veda's order if he failed to change Veda's mind. In the end, Grave decided to carry out the order, but he would use it to prove they are not a threat. Grave was not confident about completing the mission this way, but he likes the challenge and smiles. He then met Hixar who was given the same mission. While talking about their new mission, Grave hinted that he would kill Hixar if necessary, but Hixar failed to get the hint. Grave also told Hixar to abandon him if it helps to protect the Plan, but added that he would not die before he had protected the Plan. The later words were meant for the party spying on Grave through Hixar. Although Fon was the top target, he managed to evade Veda's detection, thus Grave focused on the two HRL pilots. Veda approved Grave's mission plan, and he sent a secret message to the two pilots.
Several days later, the two HRL pilots arrived at the designated location. Grave who was seeking a dialogue moves the Rasiel closer, and the Tieren Kyitwo did not attack. In the Tieren Kyitwo's cockpit, Leonard refused to give the shooting timing despite Delphine's request. Delphine knows that they could not win the Gundam in very close range combat, and was already aiming the suit's weapon at it. She assured Leonard that she could shoot and kill, but he still refused. He explains that he knows Delphine is prepared to fight to protect him, adding that he also knows that she is aware he did not want her to do so. He then clarified these are not why he refused, rather it was because he sensed the Gundam is different. He also sensed that the battle would be different and wanted Delphine to let him handle it first. Despite his strong voice, Delphine could see that he was trembling, but she still acceded to his request as she felt it was the right thing to do.
File No.22: Betrayer
Before leaving for his mission to kill Tieren Kyitwo's pilots, Grave was in his room linking up with Veda. He was looking for information on other Gundam eyewitness and soon found it. Soran Ebrahim. A young boy who witnessed the 0 Gundam during an armed intervention test. He was not dealt with as 0 Gundam's pilot assessed that it was unlikely he would spread news about the Gundam, and there was a high possibility he would join the organization. This was the same assessment Grave had made about Fon Spaak, but one was spared while the other was to be eliminated. This is illogical and indicated that Veda's decision was influenced by some unknown factor. Grave was thinking of a way to find out more about this factor when someone knocked on his door. It was Chall.
Grave had previously talked to Chall about having a discussion in her room, but she immediately proposed to visit him instead and explained that her room is messy. In his room, Grave told Chall about his dismissal from the Gundam Meister recruitment mission, and his new mission to eliminate Gundam eyewitness. He also revealed that his first target is the two HRL pilots, and this shocked Chall as she had met them before and assessed that they were not a threat. Aware that Veda's new order was similar to refuting Chall's assessment, Grave assured her he had no intention of killing them. Chall wondered if he planned to disobey Veda and become a traitor. Grave explained that he wanted to use the battle to prove the two pilots are not a threat and have Veda rescind the order. As an ex-Meister, Chall knows this is difficult and questions if it was for her sake. Grave replied he is doing this for his beliefs, he is informing her as he did not want her to worry needlessly. Chall remarked that he is a kind person and hoped he would return alive. She also said that a kind person like Grave is united for combat as kindness can get one killed. Grave promised her he would return alive, and Chall smiled. She did not cry as Grave was not planning to die, and because it is the wrong way to respond to his kindness.
They then talked about the support team Chall was proposing. Previosuly, Grave, alongside Hixar, had agreed to help Chall after the Gundam Meisters recruitment mission was over. However, Grave now noted this is unlikely to happen as he had a new mission and will probably get another mission after that. What Grave knew but kept silent was that someone had caused him to be taken off the recruitment mission, and more trouble can be expected if he survived his current mission. Chall replied it was fine and tried to joke about finding a companion who could not be killed. Grave replied he know someone who fit the bill, but needed Veda's permission first. The person Grave had in mind was Fon Spaak. Chall expressed that she would look forward to it and left.
Tieren Kyitwo arrived at the designated location. No other army or organization is around, even the surveillance satellites were being tampered with by Veda. The place was virtually unmonitored. Leonard and Delphine were asked to come here by Grave, who had identified himself as the Gundam's pilot. Although this could be a trap, they could not refuse. Rasiel and its support machine appeared, and as a precaution, the Tieren Kyitwo and Rasiel had their weapons aimed at each other. However, no one fired. In the Tieren Kyitwo's cockpit, Delphine was about to pull the trigger unconsciously when stopped by Leonard. He felt the Gundam was different and Delphine wants him to explain himself, but she quickly noticed the differences. The other party had contacted them and did not attack. Delphine had overlook these differences as she was too eager to prove that she can fight. Leonard activated the external speaker and Delphine failed to stop him. He later convinced her to let him handle the matter. Leonard then asked the Rasiel for the reason behind this meeting, and through the Gundam's external speaker, Grave explained that he wanted to prove to his organization that the two pilots aren't a threat. The battle then begins, Rasiel pulled back and Delphine missed her chance to attack as it occurred too fast. Leonard wants her to give him control of the machine and promised to giver her the shooting time. He was willing to do so as their attacks would not penetrate the Gundam's tough armor, a direct hit would only knock the pilot unconscious. Delphine felt ashamed that she was allowed to fight simply because the enemy could not be killed no matter what she do. However, she still accepts it as it allows her to vent her angst. Grave arrived at the distance he wants between him and the enemy, and told Hixar to transfer the Bits' control to him. As he expected, Tieren Kyitwo fired its 500mm Multistep Acceleration Gun. Grave positioned a Bit in the line of attack, and the other Bit behind the first but slightly angled. The first Bit was destroyed, but it had served its purpose of slowing the enemy's bullet down. The bullet later ricochet away after hitting the second Bit, and Raisel fired its beam rifle, disabling the Tieren Kyitwo. As Grave retreats, he requested Veda to analyse the battle and puts forth his objections. Back in the base, Grave changed into his civilian clothes and was informed that Veda had canceled the kill order. The battle had demonstrated the enemy is not a threat. The fact that Tieren Kyitwo was not sent to the nearest HRL base for repair proved they would not leak news about Celestial Being.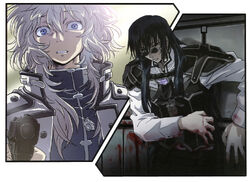 Hixar arrived to congratulate the relieved Grave, and as the latter smiles, he suddenly felt a scorching pain in his leg, waist and finally stomach. Hixar had shot at Grave and done it while raising his hand. If Hixar had aimed at Grave's heart, the moment he raised his hand, Grave would have immediately reacted to evade the critical shot. Nanomachines in Grave's body quickly acted on the wounds, but the bleeding would not stop as the injuries were too severe. Hixar was in a state of confusion, he did not understand what he done. Grave regretted his naiveté; he never thought Hixar would be used not only to spy on him but to kill him. He should have anticipated this, and was shot as he had let his guard down. Grave felt his strength diminishing and fell onto the ground despite him resisting. Beside him, a badly shaken Hixar muttered his name in a barely recognizable voice. Grave felt this was all his fault, and using the last of his strength, muttered, "I'm s… sorry, Hixar..." However, his voice was too soft to reach the confused Hixar. On that day, Grave's name was removed from Veda's list of Gundam Meisters. In Hixar's registration record, he was changed from "Human" back to "Innovade." However, this change can only be seen by those with a high access level. To the normal members, Hixar's information seem to be deleted. The deletion of one's registration record from Veda was equivalent to death, and in truth, Hixar 'died' the day Grave passed away.
File No.23: Gundam 874
Besides the two at the scene, the first outsider to notice what had happened was Gundam Meister 874. She existed within Veda's data, and can be said to exist everywhere yet in physical terms, she did not exist anywhere. She focused her attention on the corridors around the hangar where Grave is in and analyzed his conditions. Grave had gone into cardiac arrest, and beside him, Hixar was staring into space. 874 leap into action as she realized there was an enemy within.
Ian and Moreno was in Ian's room when 874 appeared on the monitor and sought their help. Ian joked about her not knocking on the door, but was cut off by Moreno who sensed something was amiss. 874 directed Moreno to the scene of the incident, and Ian realized how serious things were when she asked him to prepare the Gundam 874. Ian commented that parts for her Gundam were completed, but they were not assembled as the suit's development was terminated. He also noted the assembly and adjustments would take months, and was shocked when 874 wanted it done the next day. Having known 874 for a long time, Ian knew there was a reason for her ridiculous request and promised to do what he could. He then pointed out a problem: there is no GN Drive for the Gundam. He added that he could install a large GN Condenser, but due to the Gundam's heavy particle consumption, it would only sustain the Gundam for 30 minutes and that is without using beam weaponry. 874 told him to use Rasiel's GN Drive and he realized that Grave was injured and is Moreno's patient. Ian agreed to do as told before pointing out another problem, 874's physical body. Development of Gundam 874 was cancelled as 874 lacked a physical body. 874 existed only in data form, and her data was too much to download onto a Gundam. Although she could control the Gundam through Veda, there is a risk that the connection could be severed during combat. To overcome this risk, a body was created for 874 when she was picked as a member of the armed intervention team. However, 874 rejected the body. Thus, she was removed from the armed intervention team and the development of her Gundam was terminated. 874 replied the problem was solved, and Ian thought he saw a bitter expression on her face.
As 874 talked to Ian, she was also in Hixar's room. Hixar, who was devastated by the accident, haven't return to his room. Without switching on the lights, 874 scans through Hixar's personal computer in hopes of finding some evidence of the one responsible for Grave's death. She found a password protected section. The quantum password used could not be broken through force, trying out all the possible combinations of numerals and symbols was also impossible. She thought about Hixar for a while and entered the word, "FRIEND". She successfully entered the section, and in it was lots of women pictures and a diary that was sporadically updated. The diary entry on Virtue Physical's mock battle caught her eyes, in it, Hixar had wrote, "I might not be human." Hixar remembered and felt he had died during the accident that day, and was surprised by his survival as well as miraculous recovery. Looking back at what happened, Hixar concluded his memory was copied into a replica body. He then wrote that he was afraid and dare not tell anyone about it. 874 realized Hixar was an Innovade, but could not understand his feelings. She felt his comrades would not change their attitude towards him even if they discovered that he is an Innovade as that is what being a comrade mean. Hixar also wrote that he should reveal the truth as it makes no sense that a nobody like him is so special. He considered reporting the matter to Veda as he was worried it may lead to a serious accident, but could not bring himself to do so. In the end, Hixar did not expect this lapse of judgment would caused Grave's death.
At the same time that she was talking to Ian and reading through Hixar's diary, 874 also appeared in Agent 887's room and was welcomed by 887 with a smile. 887 inherited 874's rejected body and addresses the latter as sister as they shared the same base data. In addition, 887 felt 874 was the one to grant her life and viewed her as a mother-like figure. Through 887's rich facial expression, 874 detected her unease and begins to contemplate if she should do it. However, there was little time left as the enemy had started moving. She told 887, "I would like to borrow your body." 887 was surprised but could not say a word. 874 explained that she needed a body to pilot a mobile suit and noted that she could not guarantee the body's return. 874 knew her words were cold and hurtful; she thinks if she was a human, she might be able to express these words in a less distressing manner. She then continued by saying that 887's data would be kept by Veda, and she would request Veda to give 887 a new body if the borrowed body was damaged or destroyed. 874 knew these words aren't really comforting and was aware if the borrowed body was destroyed, she might be in no position to make the request to Veda. "Haaa…," 887 let out a tiny voice that soon become louder. "Haaaaaah!" That was the sound of her heart break – it was a sorrowful shout. 874 felt she had gave 887 the death sentence, but painful as it was, she could neither cry nor shout.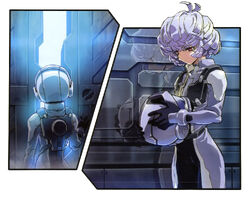 A few hours later, 874 changed into her pilot suit. She had battled using the Gundam before, but they were simple missions that do not require a physical body. However, the enemy this time was different, and likely possesses machines of Gundam's level. She then met Ian in the hangar, and Ian noted that he has to adjust the cockpit as she was taller than expected. He reported that all preparations were completed and the only issue left was the Gundam's name. He finds it inappropriate to keep calling it by its development code - Gundam 874. The Gundams were usually named by Veda after myths and legends based on their function and purpose. "Gundam Artemie", 874 replied in an instant. The machine's silhouette resembles a bee, and through Veda's search on bee related myths, 874 came to know about Artemis, the Goddess of the Moon, who is symbolized by good harvest and the bee. Furthermore, a bee's flight path resembles the figure '8', and is suitable for the Gundam carrying 874's spirit and 887's body. Ian then wondered where the enemy is, and 874 replied that the enemy will appear the instant she launched. She was confident about this, and had acted visiblely so that the enemy within would know she would retaliate after Grave's elimination. And the one effective method to eliminate her was to face her in combat. "The place is here. The enemy is from within." 874's proclamation left Ian shocked and speechless.
File No.24: Base Sequence 0026
Leonard and Delphine were at the HRL's weapon maintenance centre for the repair of the Tieren Kyitwo, which was damaged a few days ago during a battle with the Gundam. Like them, the ones doing the repair work were also from the Next Generation Technology Development Laboratory; keeping the Gundam's existence a secret and its capture were now the laboratory's top priorities. The two pilots began talking about the enemy who had used the battle to save their lives. Through his weak quantum brainwave, Leonard had sensed the enemy's thoughts during the battle. He had felt the enemy's warmth and his persistence in doing the right thing, and they left a deep impression on him. After knowing the kind of person the enemy is, the two felt that they could not carry on with their mission to capture the Gundam. They sensed the enemy is not the opponent, and the mysterious organization he works for could be a 'righteous' existence. In comparison, what they and HRL had done seem to be 'evil'. Leonard cautiously expressed his wish to search for the enemy pilot as he wanted to be one of his comrades, and brightens up when Delphine said she had the same idea. The pair decided to continue with their mission to find the Gundam, but with a new goal in mind.
The same day, Tieria abruptly received a mission from Veda: to carry out additional testing of Virtue Physical. The mission required him to operate the Gundam for more than 10 hours, and served as a practice for long duration battles that could happen during the armed intervention. Tieria had some suspicions about the mission, but brushed them aside as he felt long duration battles might occur unexpectedly during actual combat. After sending off Tiera, Ian and other engineers received a shocking order - to stay out of the hangar where Exia, Dynames, and Kyrios were present. They tried to get an explanation from Veda, but to no avail. Ian was uneasy and remembered 874 mentioning an enemy within the organization before she left. He then realized the enemy also needed the GN Drives to fight with 874, and regretted not hiding them. In truth, 874 did not asked Ian to secure the GN Drives as she knew it was useless, the enemy would just kill Ian and take the GN Drives by force.
In space, 874 was grateful to Ian for preparing her Gundam in such a short amount of time. As for her physical body, she was at first mindful of the sound of her blood flow and her heart beat, but now had got used to them. She then waited for the enemy. After a while, two identical enemy units appeared and they were coming from the direction of the hangar 874 had left earlier on. Zooming in onto the two units, 874 noted they were MS powered by GN Drives as they were spewing GN particles from their back. 874 failed to find information on the two MS in Veda's MS database, and concluded they were developed in secret. She deduced they were using GN Drives from the other third generation Gundams in the hangar as the drives could not be made in secret. She was aware there were two plans for the Gundams' pilots initially, Innovade pilots and human pilots. As such, two types of Gundams were also in development, one for Innovades and one for humans. Despite being an Innovade herself, 874 worked together with the human pilots and had no access rights to information about the development of the Innovade-use MS. She did know that the MS were developed in the secret factory behind the moon as back up. Checking Veda's record, 874 noted a shipment of goods to the facility here and suspected they contained the two MS. It seems the enemy had considered using MS when killing Grave.
Without information on the enemy MS performance, 874 decided to be cautious. She thinks they were based on the data of the Human-use machines, and guessed the protrusions next to their heads were beam cannons. The two units then attacked with their beam cannons and maintained their distance from Gundam Artemie. 874 dodged the attacks, and launched her bits in respond. She also activated the Trial System, stopping the two enemies. It was because of this feature 874 had decided to use Artemie instead of Rasiel. Despite disabling the enemies, 874 continued to be cautious. She then received a quantum brainwave praising her cautiousness, and was surprised to see her Trial System was canceled. She checked the system and found out Tieria Erde was using it elsewhere. The Trial system could not be used by two individuals simultaneously, only one with the higher access rights to the system can maintain it. Tieria had higher access right as he was a member of the armed intervention team. 874 wondered if Tieria was the traitor, but a quantum brainwave told her he was innocent and just testing the Gundam Nadleeh as ordered by Veda. From the use of quantum brainwave and the piloting of unidentified MS, 874 was certain the enemy was an Innovade. She thought about other Innovades who she knew to be MS pilots and the first to come to mind was Ribbons Almark. However, she felt it was unlikely to be him as he had higher access rights than Tieria in using the Trial System, and did not need Tieria to cancel her Trial System. "What a pity. So close...," comes the mocking quantum brainwave from the enemy.
The enemy then introduced himself as Beside Pain, the name means "the accompanying pain". 874 tried to search for his information in Veda, but found nothing. Beside Pain told her she should know her actions were useless as Veda zealously guards the pilots' information. On account of how active 874 was, Beside Pain decided to reveal himself. 874 then received an image of a young man with green hair, and knew immediately he has the same base sequence as Ribbons, 0026. Beside Pain also stated his registration number in Veda. 874 was filled with anger upon seeing his face, she had never experienced such emotions before. Beside Pain was surprised by her reaction and wondered if it was because she had a physical body. He also said that Grave's death was not important and would not affect the plan as his mission to recruit Gumdam Meisters was almost over. He then noted that Moreno was attending to Grave and calls it stupid as the dead cannot be revived. All these words further enrages 874 and she launched her 4 Bits at the two enemies.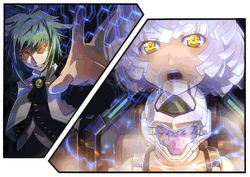 874 felt that even if she did not defeat Beside Pain, the damage she caused would help those that would come later to finish him. There was hope as she was confident Moreno would treat Grave and with Ian's help, Grave would sortie later in the Raisel using the last GN Drive. Beside Pain calls her thoughts illogical and said she was too emotional. He then delivered the bad news, he has the last GN Drive. Another MS appeared after switching off its optical camouflage, and Beside Pain calls it the 1 Gundam, the 0 Gundam's successor and the official Innovade-use Gundam. The 1 Gundam then fired its beam rifle and shot off Artemie's mask, revealing the red cables beneath. Beside Pain declared, "Your existence is superfluous to the Plan. It's my responsibility to erase those who might obstruct the realisation of the Plan. You can call it the necessary "Pain" that comes with the Plan. Let yourself be destroyed." Despite her hopeless situation, 874 still raised Artemie's gun. She felt everything will end if she loses hope; for her friends, she will never give up.
File No.25: Friend
Chall learnt about Grave's death when his registration record in Veda was deleted. To avoid thinking about it, she buried herself in work on the support organization for the armed intervention team; her proposal was approved by Veda. Grave's death reminded her of Ruido and Marlene's death. She was overwhelmed with sadness, but managed to put her focus back on her work. She then received highly classified information from Veda. It was about a man who had escaped from death several times, and Chall recalled Grave had mentioned him. The man is also a Meister candidate, and Grave had recommended he be a member the support organization. Chall was touched that even in death, Grave continued to help her. She held back her tears as she felt crying now will cause her to collapse emotionally. She was determined to make good use of what her deceased comrades had left her and viewed that as her mission. Wiping the tears off her eyes, she looks at the man's information. For her, recruiting the man known as Fon Spaak was the way forward.
Elsewhere, Artemie was accumulating damage as the battle progressed, but 874 did not lose hope even though she knew reinforcement was unlikely. Her calculations had also shown her defeat to be 100% guaranteed. However, she still fights on as the numbers were no longer important. She is fighting for the future, just like her human comrades. Only those who persevered and did not give up could march towards the future. In the 1 Gundam, Beside Pain mocks her for trying so hard and fired at Artemie's cockpit. Unlike the other Gundams, Artemie's GN Drive is located behind the waist, far from the cockpit. Thus, the attack would only disable the suit but not destroy its GN Drive. As the attack was about to hit, Sefer Rasiel arrived and blocked it using its GN Shield. 874 thought she was hallucinating, and muttered Raisel's name before slipping into unconsciousness as a sense of relief flooded her.
Moments before, just after 874 launched in Artemie, Moreno attended to Grave at the scene of the incident. Hixar was not there as he had been sent to his room earlier. Grave's heart had stopped, but Moreno continued on trying to revive him as he knows Grave is not a human and much tougher to kill. In his heart, his accumulated medical experience continuously tells him to give up, but he always retorted, "Go eat shit!" Having done what he can as a doctor, Moreno then tried to appeal to Grave's strong sense of responsibility by saying, "Grave, can you accept dying like this? How will Hixar ever face himself? 874 is still out there facing the enemy in your place! Come Back!" Just then, Grave's heart started beating, and Moreno called out to him. Grave's heartbeat grew stronger and he opens his eyes. Grave tried to speak, but Moreno stopped him as he was coughing out lots of blood. To prevent his airways from being blocked, Moreno told Grave to spit out all the blood. He then prepared to remove the bullets on Grave's body, but Grave stopped him as it was useless, the bullets have cell-destroying nanomachines and his cells were being gradually disintegrated. Grave also revealed he could monitor his own body conditions and will be dying again in a few minutes. He requested Moreno to prepare his pilot suit and contact Ian. Moreno agreed as he could not stop someone who was so determined.
In 5 minutes, Grave puts on his pilot suit and was brought to the hanger. As per Grave's instructions, Ian had prepared the Sefer Rasiel. On the back of Sefer Rasiel was the GN Sefer's Core Block unit, and Grave wanted to use the large GN condenser in the unit to activate the Gundam in place of a GN Drive. Ian estimated the condenser could only sustain Raisel for at most 20 minutes, and this would be further reduced with the use of beam weapons. Grave calmly reassured Ian that it was enough as most of his battles had ended within 5 minutes. He added the use of beam weaponry would naturally be limited in a short battle. Ian wanted to point out the enemy was also a Gundam but stopped himself as it would not change anything, he could only believed in Grave. Grave thanked Ian and Moreno, "I'm grateful to both of you. I will die in a few minutes, but both of you have given me the time to complete my final duty. These few minutes you have given me are very precious, they are comparable to my entire life up until now." Moreno and Ian nodded silently, and Grave launched. After Sefer Rasiel reached its maximum acceleration, Grave stopped the release of GN particles and let the MS drift into the combat zone.
The one most shocked by Sefer Rasiel saving Artemie was Beside Pain. He could not understand how Sefer Rasiel could move when there was no GN Drive or pilot. He was about to use Veda to search for answers when Grave advised him to stop what he was doing. Beside Pain refused to comply, and Grave decided to end this by force. To avoid wasting GN particles, Grave discarded the Bits and the Beam Rifle. He then landed the machine on an asteroid to limit the enemy's attack directions. Beside Pain lost his composure, he felt Grave was looking down on him when he discarded the weapons. Beside Pain failed to notice that without a GN Drive, Sefer Rasiel's operating time was limited and he could win by maintaing a distance and drawing out the fight. As the one responsible for recruiting Gundam Meisters, Grave could tell one's character by just observing his actions, and he had noticed Beside Pain's character flaw: he has an extreme dislike for things not going as planned. Since Grave's machine had limited particles, he decided that provoking Beside Pain was the best tactic. Beside Pain draws out 1 Gundam's beam saber and closes in. To conserve particles, Grave draws his beam saber only at the last moment. As the two beam sabers clashed, Beside Pain activated his special ability - "Install". This unique ability allows him to forcefully transfers a part of his personal data into an Innovade linked with Veda and take limited control of that Innovade. He did not use it on 874 as she could discard her body and return back to her data only form. However, there was no such worries with Grave. He ordered Grave to stop, but it has no effect. Instead, Sefer Rasiel knocked off 1 Gundam's beam saber and sliced into the machine. A shocked Beside Pain then realized his fatal mistake, Veda had deemed Grave as deceased and severed its link with him. It did not matter that he was revived for a few minutes as in the end he would still be dead. Beside Pain decided to use his ability in another way to save himself, he plans to transfer all his personal data into another Innovade with the same base pattern as his. Inside the two GN Cannons were two Innovades that he had prepared before hand for this purpose. With a shout of "Save", the ability activated. However at that moment, the cockpit was sliced apart. The attack was earlier than Beside Pain had expected and his body was disintegrated while still holding most of his data.
20 minutes elapsed since Sefer Rasiel's launch, the GN particles were almost exhausted and Grave has less than 5 minutes left. He sent a voice-only transmission to Hixar. There was no image as he did not want Hixar to see his helmet dyed red because of the blood split out, and he couldn't let Hixar see him dying again. Hixar was lying on the bed in his room, his eyes were not focused on anything. Without identifying himself, Grave reported in a business-like manner that the enemy was removed and what Hixar had done was correct and helpful. However, at the end, he added emotionally,"So… Stand up again and live on". Hixar was still in a state of shock and couldn't understand most of the message, but the last words caught his attention. These words eventually revived him and rekindled his determination to work for the Plan. However even then, he did not remember receiving the message. This was how great the lost of a good friend had affected him. Rasiel, having exhausted all of its particles, and Grave, having finished all his duties, quietly began a journey into the abyss.
Veda's record of the internal conflict was as follows. Grave was confirmed dead and all his actions were overlooked. Hixar, who was involved in Grave's death, was made a private Veda agent as he strongly expressed his willingness to help advance the Plan. He was fitted with an explosive device to prevent betrayal. 874 battled with the saboteur of Aeolia's Plan but there was no evidence. She was held responsible for the internal conflict, and was sealed in an independent terminal with restricted functions that was assigned to the new support organization. 874's tip-off about Beside Pain being a traitor was accepted, but his actions were not investigated as his data was lost. The two reserve bodies he prepared were written with new personalities and deployed as observation type Innovade.
Mobile Suit Gundam 00P Special Edition
File No.S01 Gundam Astraea Type F
The special edition of Gundam 00P takes place sometime after Gundam 00I Chapter 11 (the exact time point is not known). Fon Spaak piloting Gundam Astraea Type F went to Lagrange Point L2 saying that there's "something" there. He come across Bring Stability in the GNZ-005 Garazzo and Hiling Care in the GNZ-003 Gadessa. Fon Spaak defeats them both using his cunning tactics, and confirmed the existence of a large spaceship that is being concealed by its optical camouflage. After the events of Gundam 00F, Fon and Hanayo recovered and restarted the Veda terminal that Ribbons left behind on the moon. Although the data originally inside the terminal has been completely deleted, it still receives new data uploaded by Veda. Thus, Fon and Hanayo are aware of all current developments and discovered that Ribbons is hiding something in the L2 region. Hanayo has cut off her data link with Veda after the super computer was seized by Ribbons, this prevent the Innovators (Group) from finding and attacking them. Although Fon discovered the spaceship, he decides to leave it alone for the time being and left.
File No.S02 1.5 Gundam
This chapter take place between Gundam 00I Chapter 11 and 12, and details the fight between the GN-XXX Gundam Rasiel piloted by Hixar and the CB-001.5 1.5 Gundam piloted by Beside pain. Hixar wants to use this fight to avenge Grave Violento's death, and denied the support of Hayana piloting the GNR-000 GN Sefer as this is his personal feud. Since the Gundam Rasiel is powered by a large GN Condenser, Hixar engages in close combat to conserve the limited GN particle reserve. The 1.5 Gundam fires its Alvaaron Cannon at the incoming Gundam Rasiel and dealt some damage to its right side. Beside Pain then reveals to Hixar that the use of Alvaaron cannon has severely depleted the 1.5 Gundam's stored GN particles; this also indirectly conveys to Hixar that Beside Pain is using this battle to test his new Gundam's ability. Beside Pain proceeds to agitate Hixar and they fight it out in close combat. Using his superior Gundam, Beside Pain defeats the Gundam Rasiel and pulled the unconscious Hixar out. After waking him up, Beside Pain takes out a gun and attempts to force Hixar to commit suicide by using his special ability that temporary takes control of other Innovades. Hixar recognized the gun as the one that mortally wounded Grave; as he is about to succumb to Beside Pain's special ability, he remembers Grave's last word to him, 'live on'. Hixar starts to cry and found the strength to resist Beside Pain's control, he turns the gun on Beside Pain but his shot missed. A shocked Beside Pain decides to end the game and kill Hixar, but the 1.5 Gundam's alarm sounded. Aware that his Gundam is unable to fight another enemy unit, Beside Pain left. Hayana and her GN Sefer soon arrives.
File No.S03 Red Avalanche
Hanayo detected an odd energy reading from an empty base on the moon. Hanayo advices Fon that this is likely a trap for him, but Fon says, "I will go to confirm if it's a trap" and sorties in the GNY-001F/HS-A01D Gundam Avalanche Astraea Type F'. Two GNMA-Y0001 Empruss appears and engages Fon. After a tough battle where Avalanche Astraea Type F' receives some damage from the two Empruss, Fon shakes them off, and entered into the moon base that is too small for the two MA to enter. In the base, the sensors of Avalanche Astraea Type F' detected a huge energy reaction. Fon immediately turns the MS around and proceeds to leave the base at full speed as it explodes from within. Hanayo concluded that they will be caught in the explosion, but Fon is confident that they will barely make it out. Hanayo redo her calculations again but her conclusion did not change. Fon then replies that the machine has no problem withstanding a few seconds of being caught in the explosion. Surprisingly, this seem to be his plan from the beginning. As the Avalanche Astraea Type F' flies out amid the explosion, the two Empruss waiting outside were caught completely off guard and could not react in time, A few hours later, the Avalanche Astrea F' safely returned. Hanayo asks Fon, "Why did you go even if you knew it was a trap?". Fon replies, "Because it was a trap set for me. In short, it was something made so that I won't get bored. I couldn't not answer the invitation." Hanayo could not understand why Fon was laughing, but she pitied the enemies who tried to trap him.
File No.S04 Sword Weapon
This chapter occurs sometime after Feldt Grace's birth. Ruido Resonance piloting the GNY-001 Gundam Astraea and Chall Acustica piloting GNY-004 Gundam Plutone engaged in mock battles to test out the GN Sword (test version), Proto GN Long Blade and Proto GN Short Blade. The three weapons are being developed for the GN-001 Gundam Exia's use. Before the test, Ruido look through the data of Proto GN Long and Short Blade and immediately notes that they are developed to penetrate GN Field, and hence they are developed for use against traitors. During the test of GN Sword (test version), Ruido also fitted the Astraea with the Proto GN Sword as he thinks the MS looks cool with both swords. In the Proto GN Long and Short Blade test, the Proto GN Long Blade successfully slice off parts of the Plutone's GN Shield. In the end, the GN Sword (test version) was found to meet expectations, while the performance of the Proto GN Long and Short Blade were still lacking.
File No.S05 Type Dark
While looking through the Veda's data, Ribbons Almark notices Beside Pain's proposal to the super computer on the mass production of 1.5 Gundam as the CB-001.5D2 1.5 Gundam Type Dark. He found the machine to be a good design, and imagined his six Innovator comrades using them to command the GNZ-004 Gagas while he pilots the CB-0000G/C Reborns Gundam/Reborns Cannon. Although some of his comrades have already died, this did not matter to Ribbons as it is just an imagination. At this point in time, Ribbons had come up with a plan to upgrade his Reborns Gundam with the twin drive system using the data that Anew had brought back. He comtemplates setting aside some space in the Celestial Being's factory, which is currently busy with the production of Gaga, for the production of the 1.5 Gundam Type Dark.
Mobile Units
Innovades
Union of Solar Energy and Free Nations
Advanced European Union
Human Reform League
Volumes
Dengeki Mook
#
Title
Japanese Release Date
English Release Date
01
Mobile Suit Gundam 00P Vol. 1
(機動戦士ガンダム00P [Vol.1])
March 26, 2008
ISBN 978-4048670838
NA

* FILE NO.1 GUNDAM ASTRAEA

FILE NO.2 GUNDAM MEISTER 874
FILE NO.3 ASTRAEA WEAPONS
FILE NO.4 GUNDAM PLUTONE
FILE NO.5 CRISIS OF KRUNG THEP
FILE NO.6 GROUND BATTLE

02
Mobile Suit Gundam 00P Vol. 2
(機動戦士ガンダム00P [Vol.2])
October 25, 2008
ISBN 978-4048674348
NA

* FILE NO.7 IVAN VASHTI

FILE NO.8 JOYCE MORENO
FILE NO.9 BIRTH and DEATH
FILE NO.10 Chall Acustica
FILE NO.11 PROLOGUE

03
Mobile Suit Gundam 00P Vol. 3
(機動戦士ガンダム00P [Vol.3])
May 25, 2009
ISBN 978-4048678681
NA

* FILE NO.12 GRAVE VIORENT

FILE NO.13 INTELLIGENCE AGENCY
FILE NO.14 SEFER RASIEL
FILE NO.15 SEFER RASIEL [2]
INTERMISSION 01
FILE NO.16 AEU Assault
INTERMISSION 02
FILE NO.17 NEW GUNDAM
INTERMISSION 03
FILE NO.18 GUNDAM VIRTUE

04
Mobile Suit Gundam 00P Vol. 4
(機動戦士ガンダム00P [Vol.4])
November 25, 2009
ISBN 978-4048682398
NA

* FILE NO.19 ESCAPER

INTERMISSION 01: Chained Relationship (連鎖する関係)
FILE NO.20 INNOVADO
INTERMISSION 02: Creeping Conspiracy (忍びよる陰謀)
FILE NO.21 SWIFT CURRENT
INTERMISSION 03: Chosen People (選ばれた人々)
FILE NO.22 BETRAYER
INTERMISSION 04: 874 and 887 (874と887)
FILE NO.23 GUNDAM 874
INTERMISSION 05: Understanding without Reason (理解なき理由)
FILE NO.24 Base Sequence 0026
INTERMISSION 06: Mechanic (メカニック)
LAST FILE FRIEND
00P SPECIAL Prologue "00F" Hixer & 887 by Koichi Tokita
Novel
#
Title
Japanese Release Date
English Release Date
01
Mobile Suit Gundam 00P Part 1
(機動戦士ガンダム00P (上))
March 31, 2010
ISBN 978-4048684989
NA

1st SEASON PROLOGUE
FILE NO.1 GUNDAM ASTRAEA
FILE NO.2 GUNDAM MEISTER 874
FILE NO.3 ASTRAEA WEAPONS
FILE NO.4 GUNDAM PLUTONE
FILE NO.5 CRISIS OF KRUNG THEP
FILE NO.6 GROUND BATTLE
FILE NO.7 IVAN VASHTI
FILE NO.8 JOYCE MORENO
FILE NO.9 BIRTH and DEATH
FILE NO.10 Chall Acustica
1st SEASON EPILOGUE
2nd SEASON PROLOGUE [1]
FILE No.11 GRAVE VIORENT
FILE No.12 INTELLIGENCE AGENCY
FILE No.13 SEFER RASIEL
FILE No.14 SEFER RASIEL [2]
FILE No.15 HIXER FERMI
INTERVAL

02
Mobile Suit Gundam 00P Part 2
(機動戦士ガンダム00P (下))
March 31, 2010
ISBN 978-4048684972
NA

2nd SEASON PROLOGUE[2]
INTERMISSION 01[3]
FILE No.16 AEU Assault
INTERMISSION 01[4]
FILE No.17 NEW GUNDAM
INTERMISSION 02[5]
FILE No.18 GUNDAM VIRTUE
INTERMISSION 03
FILE No.19 ESCAPER
INTERMISSION 04[6]
FILE No.20 INNOVADE
INTERMISSION 05[7]
FILE No.21 SWIFT CURRENT
INTERMISSION 06
FILE No.22 BETRAYER
INTERMISSION 07[8]
FILE No.23 GUNDAM 874
INTERMISSION 08[9]
FILE No.24 Base Sequence 0026
INTERMISSION 09[10]
FILE No.25 FRIEND
00P EPILOGUE
Picture Gallery
Notes and References
External Links