Mobile Suit Gundam (機動戦士ガンダム, Kidō Senshi Gandamu?, Mobile Warrior Gundam) is a 1979 anime television series created by Yoshiyuki Tomino and Hajime Yatate. Yoshikazu Yasuhiko did the character designs and Kunio Okawara was responsible for the mechanical designs, including the titular giant robot, the RX-78-2 Gundam. It started the Gundam franchise and Real Robot genre of mecha anime. The series was later re-edited for theatrical release, and split into three movies.
Synopsis
It is the year Universal Century 0079, and the space colonies have declared war on the Earth Federation under the guidance of the Principality of Zeon. In one of these colonies, the Earth Federation is storing and testing a new piloted robot for use in the battle against the Principality of Zeon.
The experimental RX-78 Gundam mobile suit is forced into combat with a civilian pilot and an untested crew before it can be transported to the Federation's HQ on Earth. With few resources available against the Zeon's brightest and best, will they be able to escape, let alone deliver the RX-78 to Earth?[1]
Episodes
Comprehensive Listing of Mobile Suit Gundam Episodes
Characters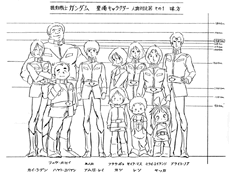 White Base Crew
Others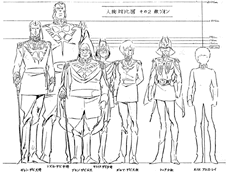 Civilians
Mechanics
Mobile Suits
Mobile Pod
Mobile Weapons
Vehicles and Support Units
Principality of Zeon
Mobile Suits
Mobile Armors
Vehicles and Support Units
Side 6
Vehicles and Support Units
Soundtrack
---
Note: On Cartoon Network's Toonami and Adult Swim airings, :45 opening and ending sequences were used in place of the Japanese TV openings and endings. These opening and ending sequences are also used in the Bandai releases from Volume 4-10.
Production
Release
Mobile Suit Gundam originally aired on the Nagoya Broadcasting Network. Much like the original Star Trek, the original Gundam was not appreciated by its initial audience, and also like Star Trek, proceeded to spawn a massive sci-fi franchise, spawning numerous sequels, model kits, and video-games up to the present day.
One of the first countries other than Japan where Mobile Suit Gundam was broadcasted was Italy, where it began airing on TMC in the February of 1980.
Following the success of the English dub of Mobile Suit Gundam Wing, the Ocean Group dubbed Mobile Suit Gundam in English. It premiered on Monday, July 23, 2001 on Cartoon Network's Toonami in the US. It did very well, but it was later canceled before the entire series was shown . This was due to the September 11, 2001 attacks occurring. Immediately following the attacks Cartoon Network, and many other stations, began pulling war-themed content and violent programming as well. Although Cowboy Bebop came back before too long, the remaining episodes of Mobile Suit Gundam were shown as part of Toonami's "New Year's Eve-il" special on December 31, 2001. While the 9/11 attacks are likely why it was taken off initially, it is not sufficient to explain why the show return few months later completely unedited like many other contemporary anime airing on the block were in response. Aside from fan speculation, the source of this seems to be an anonymous report which appeared on the fan-site gundam.com on September 14, purporting to summarize an internal Cartoon Network memo. This report can be seen in The Internet Wayback Machine.
On Saturday, June 8, 2002 the series was given another chance by Cartoon Network in their late-night Adult Swim block, but it was again pulled before completing its run.
In both American TV showings and on the American DVD release, the fifteenth episode was cut out. It was felt by Tomino, that this episode was not up to par with the rest of the series and so it was never dubbed.
The Mobile Suit Gundam Blu-ray Memorial Box Set was first released in Japan on August 28, 2013, with a launch price of 36,750 yen. The 9 disc set includes all 43 episodes remastered with bonus features, but being a Japnese only release, it has no English subtitles or audio. Contained within the newly drawn box is the set with Yoshikazu Yasuhiko's & Kunio Okawara's newly drawn cover art, episode 1's scenario, storyboards, and script, a production exposition collection (includes series proposal, original key animation, each scene's final manuscript, rough drafts, and more) as well as a "memorial album". The album holds events that happened during broadcast, magazine articles and future events, and the handbook included with the LD-Box. Bonus footage includes the July 2010 interview with Director Yoshiyuki Tomino, Character designer Yoshikazu Yasuhiko, Mecha designer Kunio Okawara, and Art Director Mitsuki Nakamura as well as past PVs and CMs.[2]
Due to Bandai Entertainment going defunct, Mobile Suit Gundam saw no hope of a Blu-Ray release in North America until July 3, 2015 at Anime Expo 2015, where the Right-Stuf and Sunrise announced that they would release the original Mobile Suit Gundam television anime series on DVD and Blu-ray Disc, and the release will mark the first time the series is getting a Blu-ray Disc release in North America. The first 21 episodes will ship in fall 2015 with English and Japanese audio, English subtitles, and on-screen translations.[3] On September 30, 2015, Gundam Global Portal posted a picture showing the Blu-Ray case of collection 01.[4]
Mobile Suit Gundam was never broadcasted and never had a home DVD release in the UK or Ireland and it was thought that a release on Blu-Ray was unlikely there since Bandai Entertainment's European subsidiary Beez also went defunct. Fortunately, on the 25th of July, 2015, Anime Limited announced at their pannel at MCM Manchester Comic Con that they would release Mobile Suit Gundam on Blu-Ray in the United Kingdom and Ireland, marking the first time the the original series will be released in there. The first part, tentatively titled "Mobile Suit Gundam: Part 1" is due to be released in October, followed by a second part soon after. The release will include Japanese audio with English subtitles as well as the English dub.[5][6] Pre-ordering became available on Amazon.co.uk on the 3rd of August 2015.[7] On the 4th of August, 2015 Anime Limited announced that Mobile Suit Gundam Part 1 of 2 will come on Blu-ray in November, with a UK Exclusive Limited Edition box (illustrated by Yoshikazu Yasuhiko) to store the whole series. The front depicts the Earth Federation characters and the back depicts the Zeon characters. There is a card box to fill in the space of the second part and potential extras. It will be limited to 1000 units.[8] The units will be released on the 30th of November, however 100 of the units were also available for purchase beforehand at Anime Limited's stand at MCM London Comic Con 2015.[9] The second part was released on Monday 8th February, 2016 and contains episodes 22 onwards on two discs. The front cover shows Lalah Sune, Amuro Ray, Char Aznable and Sayla Mass. The first 1000 units also included an artbook bundled with the Amaray case with an illustrated gallery, character line-art and mechanical line-art. Both the second part and the artbook can fit into the collectors' edition box.[10]
Gallery
See Also
Trivia
References
↑

Anime Limited Region B Mobile Suit Gundam - Part 1 of 2 Blu-Ray Cover

↑ Mobile Suit Gundam Blu-ray Memorial Box Set on CDJapan and GUNDAM GUY
External Links
Chronology