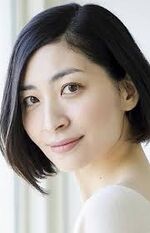 Maaya Sakamoto (坂本 真綾, Sakamoto Maaya?) born March 31, 1980 is a Japanese voice actress and singer.She made her debut as a voice actress in 1992 as the voice of Chifuru in Little Twins, but is better known as voice of Hitomi Kanzaki in The Vision of Escaflowne. Other major roles in anime include Riho Yamazaki in Nightwalker: The Midnight Detective, Moe Katsuragi in Risky Safety, Princess Tomoyo in Tsubasa: Reservoir Chronicle, Haruhi Fujioka in Ouran High School Host Club, Sayaka Nakasugi in Birdy the Mighty, Ciel Phantomhive in Black Butler, Shinobu Oshino in Monogatari, Shiki Ryōgi in the The Garden of Sinners film series, Motoko Kusanagi in Ghost in the Shell: Arise, and Ruler in Fate/Apocrypha. In video games she voices Aura and Natsume in .hack, Lisa Hamilton / La Mariposa in Dead or Alive, Aerith Gainsborough in Kingdom Hearts, Aigis in Persona 3, Lightning in the Final Fantasy XIII games, Ling Xiaoyu in Tekken, and Alisa Ilinichina Amiella in God Eater.Sakamoto graduated from Toyo University with a Bachelor's degree in Sociology in spring 2002. On August 8, 2011, she married fellow voice actor and frequent co-star Kenichi Suzumura who also voice Shinn Asuka in Mobile Suit Gundam SEED Destiny.
Roles
Notes & Trivia
Sakamoto favourite color are pink & brown.
Sakamoto hobbies are cooking,reading and singing.
Community content is available under
CC-BY-SA
unless otherwise noted.