Gray Phantom (LMSD-76)
is a
mobile suit
assault carrier from
Mobile Suit Gundam 0080: War in the Pocket
.
Technology & Combat Characteristics
The Gray Phantom is a ship of the "assault carrier" classification. Characteristics of assault carriers include the possession of extensive mobile suit support facilities and heavy weaponry needed for ship-to-ship combat. This combination allows for a modicum of independent operation capabilities as it can cover a wide variety of combat situations.
Additionally as a variant of the Pegasus-class of ships, the Gray Phantom is equipped with a Minovsky Craft system, which allows it to fly at low altitudes in Earth's atmosphere, making it a versatile ship class that can be used in space or on Earth.
Armaments
2-barrel Mega Particle Gun
Special Equipment & Features
History
The Gray Phantom was assigned to Scarlet Team. In December 19, UC 0079, the Gray Phantom was dispatched into the 6 Libot colony to take down Zeon's Cyclops Team member Mikhail Kaminsky from attacking the interior of the neutral Side. Mikhail piloting MS-18E Kämpfer destroys the Scarlet Team mobile suits before he was brought down by Christina MacKenzie piloting RX-78NT-1 Gundam "Alex".
The Gray Phantom took part in the naval review near Konpei Island in UC 0083. The ship was presumed to be damaged or destroyed during the subsequent nuclear assault conducted by the Delaz Fleet.
In Mobile Suit Gundam Unicorn, the wreck of a Gray Phantom-type ship is seen on Earth lodged in a mountain side somewhere in Asia, and is being used a Zeon remnant base. A small settlement was constructed on top of the ship, where the family of the Zeon remnants lived. It is unknown whether this is the wreckage of the Gray Phantom or another ship of the same type.
Gallery
External links
Trivia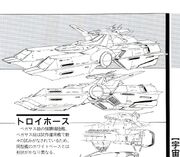 During the planning stage of War in the Pocket, the Gray Phantom was named the Troy Horse (トロイホース). This has led to many confusions, leading to the Gray Phantom being called the Troy Horse in some media, such as source books, model kits, and games.
The
Community content is available under
CC-BY-SA
unless otherwise noted.