Gray Phantom (LMSD-76)
is a
mobile suit
assault carrier from
Mobile Suit Gundam 0080: War in the Pocket
.
Technology & Combat Characteristics
The Gray Phantom is a ship of the "assault carrier" classification. Characteristics of assault carriers include the possession of extensive mobile suit support facilities and heavy weaponry needed for ship-to-ship combat. This combination allows for a modicum of independent operation capabilities as it can cover a wide variety of combat situations.
Additionally, as a variant of the Pegasus-class of ships, the Gray Phantom is equipped with a Minovsky Craft system, which allows it to fly at low altitudes in Earth's atmosphere, making it a versatile ship class that can be used in space or on Earth.
Armaments
Special Equipment & Features
History
On December 19, UC 0079, the Gray Phantom entered the Side 6 Ribo colony to stop the MS-18E Kämpfer piloted by Cyclops Team member Mikhail Kaminsky. The Gray Phantom launched its onboard mobile suit teams, the Scarlet Team and the Deep Blue Team, to intercept the Kämpfer, but they were quickly wiped out. One GM Sniper II attempted to snipe the Kämpfer from the ship's deck, but missed due to its high speed.[1]
The Gray Phantom, along with its sister ship, the Stallion, took part in the naval review near Konpei Island in UC 0083. Both ships were said to have been destroyed during the subsequent nuclear attack by Anavel Gato.[2]
Gallery
External links
Trivia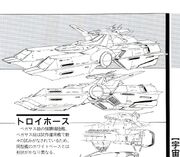 "LMSD" stood for "Landing Mobile Suit Deck".[3]
During the planning stage of War in the Pocket, the Gray Phantom was named the Troy Horse (トロイホース). This has led to many confusions, leading to the Gray Phantom being called the Troy Horse in some media, such as source books, model kits, and games.

Though not seen in the series, concept art for the GM Sniper II and the Guncannon Mass Production Type both included a "TH" mark, presumably their unit marking. "TH" likely stood for "Troy Horse".

The Gray Phantom was likely named after Native Dancer, a famous racehorse nicknamed "Gray Ghost". The USS Enterprise also shared the same nickname.
Whether or not the Gray Phantom was among the two Pegasus-class warships seen at the naval review is unclear, as the concept art simply referred to them as "Pegasus-class Federation warship", though various sources, such as Data Gundam and the G Generation series, stated that it was the same ship.
References
↑

Data Gundam - Characters: Universal Century I, p.20

↑

MSV Collection File - Space Edition
The
Community content is available under
CC-BY-SA
unless otherwise noted.