The Kimberlite Forces were a group of Zeon remnants active after the One Year War.
History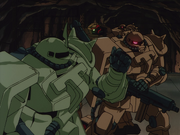 After Zeon's defeat in the One Year War, General Neuen Bitter, commander of the East African Front 3rd Mobile Assault Division, gathered his forces and retreated to an abandoned diamond mine, turning it into their base of operations. For three years, the Kimberlite forces continued their war on the Federation. However, their forces gradually dwindled. By October 23, 0083, they only had 10 operational mobile suits left.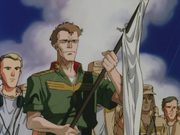 When Anavel Gato arrived at the base with the stolen RX-78GP02A Gundam "Physalis", he received a hero's welcome from the soldiers there. However, the Albion team was approaching the base. While Gato and the Physalis boarded the base's last remaining HLV to return to space, Neuen Bitter led the base's remaining mobile suits on a desperate attack on the Albion, instructing his second-in-command to surrender after the HLV launches.
The Albion team eventually defeated the Zeon remnant's mobile suits, and Bitter was killed by Kou Uraki in the RX-78GP01 Gundam "Zephyranthes" after a failed attempt to destroy the Albion's bridge, but the HLV launched successfully. The remaining personnel at the base surrendered as Bitter ordered.