Keiichi Nanba (難波 圭一 Nanba Keiichi?, born on August 26, 1957 in Gōtsu, Shimane, Japan) is a Japanese voice actor currently affiliated with Aoni Production. He is married to fellow voice actress Mayumi Shō.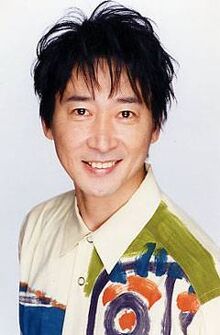 Notable voice roles[edit]
Anime[edit]
Captain Tsubasa (Karl Heinz Schneider)
DNA² (Junta Momonari)
The Doraemons (Dora the Kid)
Dragon Quest: Dai no Daibōken (Pop)
Hokuto no Ken 2 (Adult Bat)
Fuuma no Kojirou (Kojirou)
Futari wa Pretty Cure Splash Star (Meorumba)
Kimagure Orange Road (Seiji Komatsu)
Little Nemo: Adventures in Slumberland (Oomp)
Locke the Superman (Locke)
Magical Fairy Persia (Gaku Muroi)
Mobile Suit Gundam Wing (Alex)
Ninja Ryūkenden (Ryu Hayabusa)
One Piece (Shepherd, Itomimizu)
Ranma ½ (Picolet Chardin III)
Sailor Moon (Gurio Umino, Zoisite)
Saint Seiya (Pisces Aphrodite, Poseidon/Julian Solo, Tateza Jan, Astaroth, Freyr)
Saint Seiya: Soul of Gold (Pisces Aphrodite)
Sakigake!! Otokojuku (Hien)
Sakura Taisen: Katsudō Shashin (Patrick Hamilton)
Toriko (Joa)
Touch (Kazuya Uesugi)
Transformers (Blaster, Twincast, Leozak, Leocaesar, White Leo)
Trigun (Hoppered the Gauntlet)
Violence Jack: Harlem Bomber (Kenichi)
Video games[edit]
Captain Tsubasa 5: Hasha no Shogo Campione (Karl-Heinz Schneider)
Black/Matrix (Juda)
Guilty Gear series (Axl Low)[1]
Fatal Fury series (Andy Bogard) 3 - wild ambition
Sakura Taisen V Episode 0 Kouya no Samurai Musume (Patrick Hamilton)
Saint Seiya Senki (Pisces Aphrodite)
Dubbing roles[edit]
6teen (Jude Lizowski)
The Adventures of Tintin (Rastapopoulos)
Avengers Assemble (Red Skull)
Tokusatsu[edit]
Ultraman Mebius (Ultraman Hikari/Hunter Knight Tsurugi, Kodaigon The Other)
Juken Sentai Gekiranger (Confrontation Beast Eel-Fis Nagiu)
Ultraman Mebius Gaiden: Ghost Reverse (Ultraman Hikari)
Mega Monster Battle: Ultra Galaxy (Ultraman Hikari)
Tokumei Sentai Go-Busters (Rousokuloid)
Ultra Fight Victory (Ultraman Hikari)
Community content is available under
CC-BY-SA
unless otherwise noted.