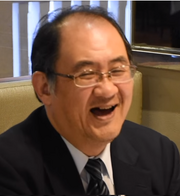 Katsumi Kawaguchi (川口 克己, Katsumi Kawaguchi?) (December 10, 1961) is a Japanese professional modeller and executive of the Bandai Corporation. Currently he is the Director of the promotion and marketing department of the Gundam model kit line.
History
Kawaguchi studied Business Administration at the Business School of Hosei University and joined the Bandai Corporation in 1985. Kawaguchi has been involved in the world of Gunpla since the introduction of the hobby in Japan in the early eighties to the present, and is a highly respected figure in the community of the hobby. Thanks to his pioneering model-making techniques and Gundam Models , fans nicknamed him "Meijin Kawaguchi" (名人 川口, lit. Master Kawaguchi ).
Trivia
Gundam Build Fighters character Tatsuya Yuuki's title of "Meijin Kawaguchi III" is a tribute to Katsumi Kawaguchi. A silhouette from Gundam Build Fighters Amazing also implies that he's the first Meijin Kawaguchi.
Katsumi Kawaguchi appeared as a caricature in the manga Plamo-Kyoshiro (1982) as one of the characters giving instructions to the protagonist on how to properly assemble the plastic models.
External Links