Hobby Hobby Imaging Builders (HOBBY HOBBY イメージングビルダーズ) is a Mobile Suit Variations-style work for the Build Fighters timeline and is in the form of a fictional magazine article. Debuting after the end of Gundam Build Fighters Try, it is published monthly online and has a total of 40 volumes.
New volume was released during the run of Gundam Build Divers Re:RISE as Hobby Hobby Imaging Builders Ver.MODELERS and Hobby Hobby Imaging Divers Ver.C.Z.
Original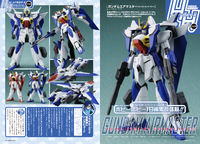 Vol.27: Chara'gguy (Fumina / Gyanko) & Petit'gguy (Rusty Orange / Surfacer Gray)
Ver.MODELERS

Ver.C.Z
Community content is available under
CC-BY-SA
unless otherwise noted.