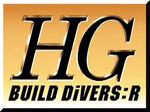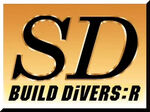 High Grade Build Divers Re:RISE (HGBD:R) (ハイグレードビルドダイバーズRe:RISE, Hai Gurēdo Birudo Daibāzu Re:RISE?) is a line of Gunpla kits of the Mobile Suits from the Gundam Build Divers Re:RISE series. The HGBD:R line also includes the sub-line SD Build Divers Re:RISE (SDBD:R).
Each box features a QR code that enables modelers to watch the anime online.
List
Yen price excluding 10% tax.
Notes and Trivia
The capitalization of the logo's lettering is identical to the name of the BUILD DiVERS force in the anime series. This differs from the lettering of the original Build Divers force and the High Grade Build Divers logo.
Release date of HGBD:R-033 GAT-X303K Gundam Aegis Knight was delayed due to unspecified reason. However, given that instruction for the creation of Re:Rising Gundam was revealed together with the release of the kit, and the new release date was two days after the release of Episode 25 of the Build Divers Re:RISE, the kit might have been postponed to avoid spoilers.
See also
References
External links
Community content is available under
CC-BY-SA
unless otherwise noted.