We'll be covering the latests news about Gundam. Please add on to our list if you know something that we do not.
2011
June
A new Gundam series was announced on 13th June, 2011: Mobile Suit Gundam AGE. The series will debut in October of 2011. Information on characters and more were unveiled at the event.
Sources: Anime News Network Gundam.Info
Another new Gundam anime was announced in the August issue of Gundam Ace - an adaptation of Mobile Suit Gundam: The Origin.
Source: Anime News Network
February
Bandai has begun streaming official videos of several different Gundam series for viewers to watch for free. From now until the third of May, YouTube, Chrunchyroll, and the Anime News Network will be showing these videos given to them directly by Sunrise. Currently Mobile Suit Gundam, Zeta Gundam, and Gundam Seed are being shown. Later on Gundam Wing and Gundam Seed Destiny will also be shown. These streaming videos are for a limited time only, so see them now while you have the chance.
Official schedule and videos can be found here: Bandai Channel
January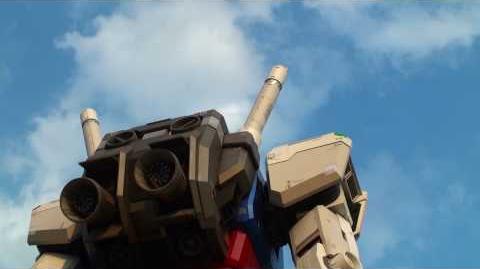 It has been officially announced, the Giant RX-78 Gundam Statue/Model will make a comeback this year, but this time it will be located in Shizuoka City, 125 miles west of Tokyo. A Bandai spokesperson said Gundam will come to life once more in June, at the East Higashi-Shizuoka Station, near the local Bandai factory in which there is a guided tour (with previous reservation) that could complete your itinerary if you decide to make the trip to Shizuoka.
Originally this incredible real scale statue was erected in Tokyo's artificial island Odaiba, to commemorate the 30th aniversary of Mobile Suit Gundam. The statue was dismantled last September, but it was so successful (4 million visitors aprox.) that the people from Bandai decided to bring it back to life again.

Via: CrunchGear
October
In the spring of 2010 Mobile Suit Gundam Unicorn/Mobile Suit Gundam UC will be launched as a six-episode original video series, with each episode running 50 minutes. This multi-platform "crossover" release will encompass various possibilities such as Blu-ray, DVD, public screenings, online distribution, and overseas releases.
Japanese site: http://www.gundam-unicorn.net/ English site: http://www.gundam-unicorn.net/en/
Community content is available under
CC-BY-SA
unless otherwise noted.