Fam Bow (ファム・ボゥ, Fam Bow?) is a character from Mobile Suit Gundam who was a civilian from Side 7 and the mother of Fraw Bow.
Appearance
Fam Bow has short light brown hair and a somewhat chubby face. In her only appearance during Mobile Suit Gundam, she wore a purple dress and a scarf.
History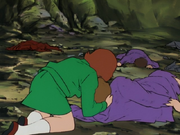 Fam Bow is a resident of Side 7, and lives with her daughter, Fraw, and her father. During the One Year War, a Principality of Zeon force attacks the colony, and she and her family are among the civilians who try to evacuate. As they try to escape, Fam, her father and others are killed by an explosion caused by the Zeon. Fraw, who was a safe distance away, cries over the corpse of her dead mother. As the area is still unsafe, Amuro Ray then tries to calm Fraw down and tells her to run for the spaceport so she doesn't end up sharing the same fate as her mother.[1]
Gallery
References
Community content is available under
CC-BY-SA
unless otherwise noted.