The Earth Federation Forces (地球連邦軍, Chikyuu Renpougun?, abbreviated as E.F.F.) is a faction featured in the Mobile Suit Gundam: The Origin manga and its OVA adaptation.
History
The Earth Federation Forces deployed garrisons to each Side in the name of maintaining public order. The Sides were prohibited from developing or acquiring weapons. Despite its self-governing status being recognized by the Federation, Side 3, the Autonomous Republic of Munzo, was not exempt from this.[1]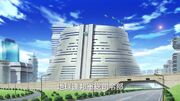 Originally the Earth Federation Forces headquarters was located in Brasilia [2], but it was moved to Jaburo, an underground base located under the Guiana Highlands, after its completion in U.C. 0078.[3]
Rank Insignia
Standard uniform have shoulder patches and collar tabs. High officers also have "diamonds" on cuffs equal number of "diamonds" on shoulder patches and collar tabs. Space suits have collar tabs only. 
Ranks
Rank Insignia
Japanese
Space Units
Ground Units
Collar Tabs
Shoulder Patches
High Officers
大将
(Taishō)
Admiral
General

中将
(Chūjō)
Vice Admiral
Lieutenant General

少将
(Shōshō)
Rear Admiral
Major General

准将
(Junshōu)
Commodore
Brigadier General

Senior Officers
大佐
(Taisa)
Captain
Colonel

中佐
(Chūsa)
Commander
Lieutenant Colonel

少佐
(Shōsa)
Lieutenant Commander
Major

Junior Officers
大尉
(Tai-i)
Lieutenant
Captain

中尉
(Chūi)
Lieutenant Junior Grade
First Lieutenant

少尉
(Shōi)
Ensign
Second Lieutenant

准尉
(Jun-i)
Warrant Officer

Non-Commissioned Officer
曹長
(Sōchō)
Master Chief Petty Officer
Sergeant Major

伍長
(Gochō)
Chief Petty Officer
Sergeant

伍長
(Gochō)
Petty Officer
Corporal

Crewmen and Soldiers
上等兵
(Jōtōhei)
Senior Crewman
Senior Private

一等兵
(Ittōhei)
Crewman 1st Class
Private 1st Class

二等兵
(Nitōhei)
Crewman 2nd Class
Private 2nd Class
References