Duo, the God of Death Once Again is the twenty-third episode of Mobile Suit Gundam. It first aired in Japan on September 8, 1995 and North America on April 5, 2000.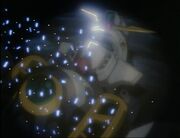 A submarine underwater, which Sally Po is on with a number of former Alliance members finds the Wing Gundam. OZ vessels approach, but they wipe them out with few problems.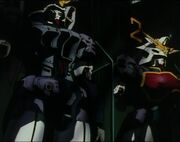 Meanwhile in space, mass-produced Mobile Dolls are being designed by the Gundam Engineers. They take away the remains of the Shenlong to be thrown out, but instead bring it to a hidden room where 2 new Gundams, a new Deathscythe and Shenlong are being built. Meanwhile Zechs talks to a group of colony leaders, who say they will continue to support OZ because it will protect the colonies from harm.
Duo watches a television, showing mass amounts of materials being transported to the Lunar Base. He meets Hilde, a volunteer member of OZ, who tells him sign ups are next week. Heero and Wufei are brought to the Lunar Base while Trowa ponders on why OZ hasn't taken over the colonies yet. Duo goes to the space port, but Hilde notices it's a week to early; he steals a Leo and escapes.
Hilde chases after him and Duo is surprised when she claims to be fighting for the colonies just like him. The OZ shuttle relentlessly blasts at Duo's Leo and he rescues Hilde from being blasted and is captured.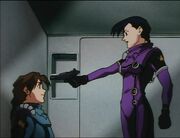 Later, Duo is being interrogated by Hilde. They are going to bring him to the Lunar Base where he can be interrogated. Hilde thinks about what Duo says to her and the fact that she was nearly killed when he was captured. When they approach the Base Duo breaks out in the heavily damaged Leo.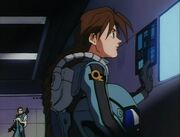 Mobile Dolls are sent out by the Lunar Base and Duo's decimated Mobile Suit crashes onto the surface. Hilde arrives though and destroys them for him and blasts open an entrance into the base.
Duo goes in, determined to destroy the Mobile Suit plant and kill the engineers. He discovers the 2 new Gundams though, and allows Master O to beat him up and hand him over to OZ. He is thrown into the cell with Heero and Wufei, who he informs about the new Gundams. On Barge, Trowa returns from escorting Zechs back to earth and talks to Lady Une.
Important EventsEdit