Anno Domini Mobile Weapons are mobile suits and mobile armors shown in the fictional universe of Anno Domini timeline in Gundam 00. Mobile suits and mobile armor are all fictional mecha.

The codes after the name specify in which series/manga that mobile suit actually appeared in:
1st Generation Gundam
2nd Generation Gundams
3rd Generation Gundams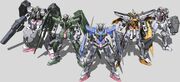 3.5 Generation Gundams
4th Generation Gundams
5th Generation Gundams
Innovade-use/Recovered Mobile Suits
Non-GN Mobile Suits
CBNGN-003 (SVMS-01AP) Union Flag Celestial Being Version - [00M]
Support Units
Other
Pics Gallery
See Also
Articles & References
External Links
Template:Anno Domini Mobile Units
Community content is available under
CC-BY-SA
unless otherwise noted.