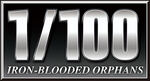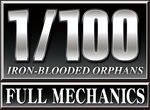 1/100 IRON-BLOODED ORPHANS (NG IBO) is a line of Gunpla kits for the 2015 anime Mobile Suit Gundam IRON-BLOODED ORPHANS. While the kits feature inner frames similar to the Master Grade line, they are not as detailed and are priced lower than both the MG and Reborn-One Hundred lines.
For the series' second season, the line was renamed 1/100 Full Mechanics (NG IBO FM). In addition, the box packaging and instruction manuals feature bilingual Japanese and English text.
Reissues from 2019 onwards will bear the blue Bandai Spirits logo.
Yen price excluding 8% tax (10% from 2019 October onwards).
See also
External links